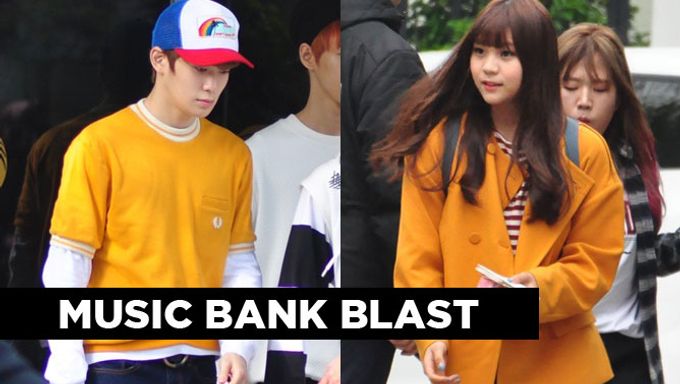 Kpopmap went to Music Bank today to meet our fave idols who performed today, and guess what we found!
This week's Music Bank lineup was pretty epic with acts like VIXX, NCT U, CNBLUE and more. While eye goggling at our beautiful idols, we noticed something fun! A lot of the idols' outfits could be matched into couple looks! Be advised, it doesn't mean that they're actually dating (or maybe?). We paired off the idols to help inspire that couple look we're all so fond of. Some of these stars match so well that they would actually look good together too!
Sit back, relax, and enjoy the couple looks we've matched for our Music Bank K-pop idols!
MUSIC BANK BLAST: COUPLE LOOKS
1. NCT U's JaeHyun & GFriend's UmJi
NCT U's JaeHyun and GFriend's UmJi looked so cute in popping orange! Destiny would have it that they both wore navy blue bottoms, which just completed the look of a couple. They're both so looking, and they're also members of rookie groups that have been rising in popularity!
2. BLOCK B's Zico & Yoo SungEun
K-Pop's Hip Hop Gangster, Zico looked dashing in an all black sweater with bold letter printed hems. A while later, Yoo SungEun came to Music Bank with Kisum wearing a very similar sweater but in a different color. Both artists were wearing complimenting hats that matched well with their outfit. When you place these two together, doesn't their outfits just complement each other so well?
3. HISTORY's JaeHo & SECRET's HyoSung
JaeHo and HyoSung both looked so pretty in pink with complimenting whites. Although they may not have similar styles of clothing on, they both matched well in the same color. I think any couple dressed similarly as they had would be perfect for spring!
4. HISTORY's SiHyoung & Berry Good's SeHyung
With classic tastes, SiHyoung and SeHyung both wore denim/blue tops with black bottoms. If your bae and you are conflicting about couple look choices, this is always a safe bet to take. What's more fascinating is that these two have very similar names too!
5. GOT7's JB & Park BoRam
JB and Park BoRam walked in looking mighty fierce in leather jackets to match and sunglasses! All you couples going for a fierce chic look, matching leather is always a good answer. And girls can feminize the leather style by matching it with floral prints and skirts, just as BoRam did!
6. NCT U's DoYoung & Oh My Girl ARin
Another couple look where you don't need to be wearing the same clothes! Just color matching works well with couple looks. DoYoung wears a white sweater with black pants, while ARin wears a white blouse with a black skirt. ARin accessorizes with an orange bag, while DoYoung simply has orange hair. Wouldn't that be a quirky idea for your own couple look?
7. GOT7's Junior & Berry Good's TaeHa
Oh so casual, you wouldn't expect these twos outfits to be a part of a couple look. However, when you place them together, they make a cute pair! Checkered flannels with plain white shirts underneath. You can't get simpler than this for a couple look, but it still looks so lovely!
8. HISTORY's KyungIl & CNBLUE's MinHyuk
From head to toe, these two gents have got it going on with this matching couple look! 😛  Although their styles are a bit different. Overall, the same color coordination works wonders for a well matched look.
9. NCT U's Mark & VIXX's Ken
Mark and Ken coordinates well in black/yellow/white Supreme sweaters. Although the designs are different, try matching with your bae through the brand!
10. Defcon & GOT7's Jackson
Defcon and Jackson are both reality Gods. Maybe their sense of humor transfers over to fashion as well! These two matched so well, both in all black from head to toe. You can't forget to accessorize with gold accessories and a celebs always gotta have his mask!
Inspired? Got a good laugh? Stay tuned for next week, when we visit Music Bank again to bring you the
latest issues of our fave idols!
xoxo