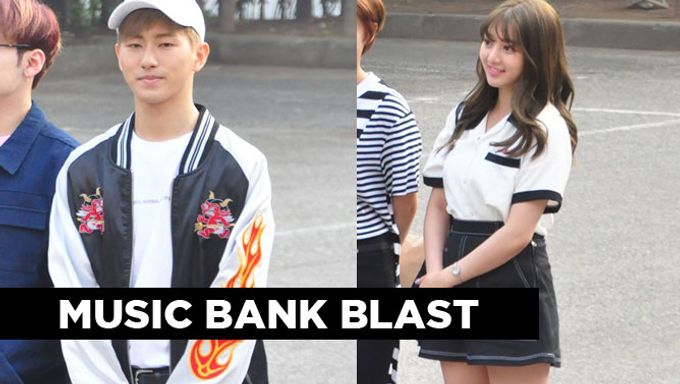 Kpopmap goes on weekly trips to Music Bank to find your favorite K-Pop idols in the cutest couple clothes!
This week's Music Bank lineup was off the charts with acts like IOI, MONSTA X, SEVENTEEN, UP10TION, TWICE and more! While eye goggling at our beautiful idols, we noticed something fun! A lot of the idols' outfits could be matched into couple looks! Be advised, it doesn't mean that they're actually dating (or maybe?). We paired off the idols to help inspire that couple look we're all so fond of. Some of these stars match so well that they would actually look good together too!
Must Read : Music Bank Blast: K-Pop Idols' Couple Looks from May 20th
Sit back, relax, and enjoy the couple looks we've matched for our Music Bank K-pop idols!
MUSIC BANK BLAST: COUPLE LOOKS
1. Map6's J.Vine & TWICE's JiHyo
The White on Black Couple
2. Map6's Sun & LaBoum's HaeIn
The Light Striped Sky On Black Couple
3. Boys Republic's DaBin & Oh My Girl's MiMi
The Natural Beige Couple
4. Map6's MyoHa & TWICE's JeongYeon
The Striped on Black
5. SEVENTEEN's Woozi & Oh My Girl's JiHo
The Grey Brunettes Couple
6. APRIL's NaEun & Berry Good's DaYe
The V Line Denim Dress Twins
7. TWICE's Sana & APRIL's YeNa
The Light Pink on Light Denim Twins
8. TWICE's DaHyun & Berry Good's SeoYul
The Dark Overall Dress Twins
Inspired? Got a good laugh? Stay tuned for next week, when we visit Music Bank again
to bring you the latest issues of our fave idols!
xoxo