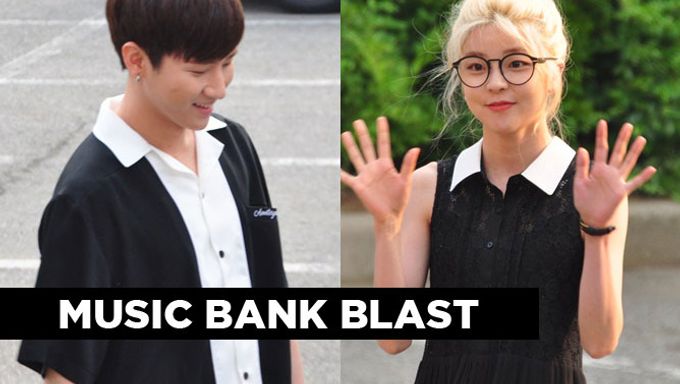 Kpopmap goes on weekly trips to Music Bank to find your favorite K-Pop idols in the cutest couple clothes!
This week's Music Bank lineup was off the charts with acts like EXO, CLC, EXID, MONSTA X, DIA and more! While eye goggling at our beautiful idols, we noticed something fun! A lot of the idols' outfits could be matched into couple looks! Be advised, it doesn't mean that they're actually dating (or maybe?). We paired off the idols to help inspire that couple look we're all so fond of. Some of these stars match so well that they would actually look good together too!
Must Read : Music Bank Blast: K-Pop Idols' Couple Looks from June 10th
Sit back, relax, and enjoy the couple looks we've matched for our Music Bank K-pop idols!
MUSIC BANK BLAST: COUPLE LOOKS
1. Tahiti's JiSoo & MAP6's Sun
The Sky Blue Jacket Couple
2. Jessi & MAP6's Sign
The Poppin' Pink Couple
3. Baby Boo's ChaeI & KNK's Oh HeeJun
The Overall Throwback Couple
4. CLC's YuJin & EXO's Kai
The A-Little-Early-For-Autumn-Colors Couple
5. FIESTAR's YeZi & B.I.G's J-Hoon
The White Under Black Couple
6. EXID's Hani & DIA's EunChae
The Brunettes in Grey Twins
7. HEYNE & MONSTA X's I.M
The Penguin Couple
8. MONSTA X's WonHo, B.I.G's GunMin, EXO's Chen & U-KISS's KiSeop
The White Shirt & Black Pants (+Black Hat) Quadruplets
Inspired? Got a good laugh? Stay tuned for next week, when we visit Music Bank again
to bring you the latest issues of our fave idols!
xoxo