This drama can only attract attention as it is the Korean remake of the Japanese manga "Absolute Boyfriend" by Yuu Watase that had also been adapted in Japan in 2008 and in Taiwan in 2012. Both adaptations have been popular! Fans of the series have been waiting for this Korean version.
Yeo JinGoo, Girl's Day's MinAh and Hong JongHyun are the lead actors for this sweet fantasy romantic comedy drama. Yeo JinGoo's popularity is quite big after he has shown his excelent acting skills since his young age. He had worked on numerous projects such as "Circle" (2017) and "The Crowned Clown" (2019).
MinAh also known as Bang MinAh already acted previously, for example, she was the lead actress in "Beautiful Gong Shim" (2016).
Hong JungHyun is a model turned actor that has gained popularity with dramas such as "Moon Lovers: Scarlet Heart Ryeo" (2016) and "The King in Love" (2017). He is part of the 'Model Avengers' with model turned actors: Kim WooBin, Lee SooHyuk, Kim YoungKwang and SungJoon.
Here is more information.
My Absolute Boyfriend (2019)
Information
Title: My Absolute Boyfriend /Jeoldae Geui/절대 그이
Director: Jung JungHwa
Writer: Yang HyukMoon, Jang AhMi based on the story by Yuu Watase
Network: SBS
Runtime: From May 15
# of Episodes: 40
Language: Korean
Summary
It tells the story of DaDa, a special makeup artist, who has a cold heart because she was hurt by love. It also tells the love story she has with an android robot/doll built as women' ideal boyfriend.
Cast
Yeo JinGoo as YoungKu (Zero Nine)
"Hello my girlfriend"
He looks good in any clothes. Once he gives his heart to his girlfriend, he loves her without conditions and only looks at her with innocent and sincere love. Zero Nine exists for women and was developed in Kronos Heaven. Actually, he was created after the request of the young chaebol heiress Diana of the "DIA Group" and is name is Romantic Boy - No. 09.
He is "A special lover for you". At the origin, Diana should have received it. The researchers of Kronos Heaven understand that she has a bad-tempered and remove it from her. In this process, Zero Nine understands that DaDa is his master and his girlfriend. Can Zero Nine feels true love - a love not coming from his programming?
Girl's Day's MinAh as Um DaDa
"I guess I was looking forward to the eternal love, the one that comes from the fairy tales"
She is a talented special makeup artist. She might be talented at work but her personal life is not that good. After her boyfriend -WangJun- of 7 years left her suddenly, her heart started to solidify. She decided to not believe in love anymore.
Suddenly, YoungKu who looks like a human appears in front of her and says "my girlfriend". At first, she has a hard time to understand and he gets on her nerves. But soon enough, she starts to pay attention to him. Everything that she has wanted from WangJun, YoungKu is doing it. When she feels that YoungKu has real feelings for her, WangJun comes and says that he loves her again. She is stuck between the two men.
Hong JongHyun as Ma WangJun
"Um DaDa, I can't send you this way. I am going to find you again."
He is a best-selling top star. He is handsome and has great acting skills however he still has a long way to climb. He may look perfect in appearance but inside it is different. He has a weakness, his seven-year relationship with Um DaDa. Because of his agency, they had to date in secret and they parted little by little. They break up suddenly.
It has not been long since they broke up and he is shocked at the sight of DaDa dating a handsome guy. He gets angry as he sees YoungKu doing things for her that he could not. He starts to feel sorry and wants to get her back. Will WangJun be able to beat Zero Nine?
Teaser & Posters
Here is the first teaser.
Here is the first poster.
Interesting Facts
Here is the main theme.
Here is the comparison with the original characters from the Japanese drama and the Korean version.
Here are the posters of the Japanese (with Mokomichi Hayami, Hiro Mizushima, and Saki Aibu) and Taiwanese dramas (with Jiro Wang, Ku HyeSun and Hsieh Kun Da).
Read More : 5 Upcoming Romantic Dramas With Male Idols That You Should Wait For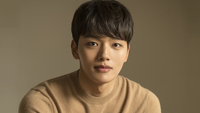 Became a fan of Yeo JinGoo
You can now view more their stories