Not much time left until the first broadcast of the much-expected drama "My ID Is Gangnam Beauty". Im SooHyang and ASTRO's Cha EunWoo are involved in a campus love story while dealing with the subject of what is 'beauty'. The girl underwent plastic surgery to live a new life, while the main male character knows her from before.
The posters and teasers are all released but JTBC continues with more teasers and gets the viewers even more excited.
First, Im SooHyang's character Kang MiRae long teaser was released. The viewers discover the main female character. In the teaser, the girl seems to enjoy her new life as a "beauty" and cannot get used to being called like this. She also recalled her past when at school kids were bullying her and calling her 'pig'. She then did a diet but things did not get better as she was harshly rejected by the guy she liked. She described her awful feelings in the teaser.
The teaser goes to the time she underwent surgery and started a 'new life' with a 'new face'. In the present, she is surprised by the reception others do to her while attending university. MiRae starts realizing that she knows Do KyungSuk, the leading male character. The second female lead, named Hyeon SooA (Jo WooRi), also appears.
The teaser then turned sad and dark, as her father cannot recognize her and refused to talk to her. Moreover, she is bullied by her university's student.
Check it in the video below.
Second, Cha EunWoo's character Do KyungSuk long teaser was released. The teaser highlights his handsomeness. His beauty was recognized since his school days. The teaser also shows Hyeon SooA hitting on him -with a fox-like attitude- while he is not interested at all. He keeps his cold looking attitude.
He keeps showing attention to Kang MiRae and revealed that he knows her from before the surgery. Do KyungSuk keeps showing his caring attention.
The teaser then focuses on the sad part of the character life: his mother that came back to Korea. He does not consider her as his mother. The viewers also find out that Kang MiRae is somehow linked to his mother as she saved her from her past suicidal behaviors.
Check it in the video below.
The love story makes many curious as Yeon WooYeong (Kwak DongYeon) also shows his interest to the girl!
The preview of the first episode was also released, you can watch it below.
For more information and pictures about the drama and the webtoon, you can check our (updated) cast and summary, here.
The first broadcast is on the 27th!
Are you planning to watch?
Read More : Who Is The Handsome Idol Chosen To Act As The Young Version Of Cha EunWoo In "My ID Is Gangnam Beauty"?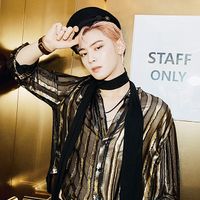 Became a fan of Cha EunWoo
You can now view more their stories
Became a fan of Kwak DongYeon
You can now view more their stories