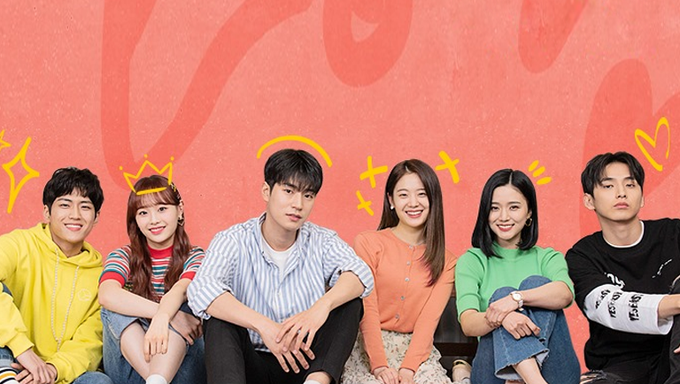 Welcome a new web drama with K-Pop idols! It is a university romance drama. Have you ever thought of attending dating classes? These 6 freshmen are learning about love.
3 idols are part of the cast: fromis_9's Jang GyuRi, LOONA's Chuu, and KNK's SeoHam. Part of the cast, there are also actress Oh SeYoung, rookie actor Kim MinChul, and Kim DongGyu who is famous for his pictures that give boyfriend vibes (you check his Instagram here).
The drama will air every Friday and Saturday on Olleh tv and tvN D STORY YouTube and Facebook.
Here is more information.
Necessary Dating Education (2019)
Information
Title: Necessary Dating Education /Compulsory Dating Education/Pilsuyeonaegyoyang/필수연애교양
Director: Chu KangSeok
Writer: -
Network: tvN D
Runtime: From May 10
# of Episodes: 16 (10 min each)
Language: Korean
Summary
It tells the story of 6 freshmen at the university who are taking "necessary dating education". Three boys and three girls that have to date by changing partner from time to time. There are different types of people: a university student that likes fluttering but not dating, a guy who has no dating experience and is clueless about dating, a couple that is going through a period of lassitude as they arrive in college.
Cast
fromis_9's Jang GyuRi as Kang JiYoung
She is cute and has a warm personality.
LOONA's Chuu as Han EunSol
She has a lot of aegyo and is pretty. She is popular (an insider).
Oh SeYoung as Cha JooWon
21 years old. A girl crush studying in communication studies. She is dating HaJoon. Then, she enters university and there are a lot of things she wants to do. She sticks to HaJoon and he started to feel pressured by it.
Kim MinChul as Im HaJoon
He dreams of becoming a good father and wants to start a family with his girlfriend.
KNK's SeoHam as Yoon Soo
20 years old. He is a smart student in the Mathematics Department. When he was in high school, he only studied. He was never interested in dating.
When he became a university student, he was turned down all the time at blind dates. Girls say he is kind but that he is clueless about dating. He wants to know what is 'sense' throughout the class.
Kim DongGyu as Jo TaeJin
A chic warm-hearted man.
Interesting Facts
Here is the poster.
A part of the show was filmed at Myongji University.
https://www.instagram.com/p/BwlJ5nHnscl/?utm_source=ig_share_sheet&igshid=1lb4bcm05az36
Actor Kim DongGyu posted a picture of the filming.
https://www.instagram.com/p/Bw6uFbCh9uW/
KNK's SeoRam too posted about the web drama.
https://www.instagram.com/p/Bwrh449F3BL/
Read More : 8 Male Idols That Would Be Perfect For Remake Of Webtoon "Favorite Part"