A netizen recently wrote a post about how BTS and their agency over exaggerates their achievements through media play.
While the intention clearly seems to be to undermine BTS, the netizen didn't receive a single comment out of the 300+ and counting that criticized BTS, but instead discovered that all of them were defending the K-Pop boy group.
The writer of the post stated that news agencies over exaggerated BTS's popularity by misinforming readers of how many people were present at their Wembley Stadium concert, by comparing the stage settings of Adele's.
The writer stated that during Adele's Wembley Stadium performance, it made sense that 98,000 people showed up because of how the stage did not take up much of the stadium as shown in the photo below.
The writer then uploaded a photo of BTS's stage settings, saying that medias falsely portrayed the crowd of the BTS concert. The photo below shows about a third that were empty seats at the BTS concert at Wembley Stadium.
The writer stated that the medias made it seem as if BTS filled 90,000 seats.
However, all the comments that the writer received were criticisms, not about BTS, but about the writer.
"Thanks for advertising how popular BTS is."
"Why would BTS be media hyping LOL are you brainless?"
"Your life is pitiful. *sigh*"
"Are we supposed to laugh at this?"
"Go to sleep LOL"
"Big Hit later revealed the actual figures officially."
"I think a lot of anti BTS fans are going crazy these days because they can't stand watching them succeed."
"Geez you f***tard you f***tard."
Read More : YG Entertainment Ridiculed For Portraying BLACKPINK & iKON More Popular Than They Actually Are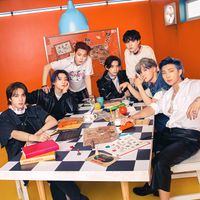 Became a fan of BTS
You can now view more their stories