Just recently, a new boy group in Japan's music scene has surfaced.
The group is made up of seven members. Their style of performance can be characterized as an urban and hip-hop dance performance with pop vocals. From brightly dyed hairstyles to colorful and trendy streetwear, the septet boy band exhibit a mixed and matched look that seems to give unity through chaos.
But strangely, the description sounds a lot like a group of people we know.
BTS anyone?
Not exactly, but you'd probably agree that the description above definitely fits the global superstars. That's because there seems to be a lot of similarities between them and the boy group we're talking about.
'Ballistik Boyz', a J-Pop boy group has recently been the laughingstock among netizens recently for their strange similarity to BTS. They kind of remind you of the global superstars in a way but many netizens have been saying something was off about them. Some netizens have branded them as 'fake BTS'.
Many netizens have said it's no coincidence that the Japanese boy band appeared suddenly after the success of BTS.
Read More : Japanese Netizens Criticize BTS And Say Their Success Is 'Manipulated'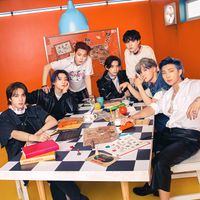 Became a fan of BTS
You can now view more their stories