Netizens have a sharp eye on actors' similarities. This time it is WonBin and Yoo SeungHo.
WonBin's popularity is still on the top and he is considered as one of the most handsome actors in Korea. Yoo SeungHo is a well-known actor and also known for his great visual. He acted in various dramas such as  "Warrior Baek DongSoo" (2011), "I Miss You" (2012), "Remember, War of the Son" (2015), "Ruler: Master of the Mask" (2017), and more recently "I'm Not a Robot" (2017). Yoo SeungHo next drama "Revenge Has Returned" (working title) will be airing in December this year on SBS.
Netizens found out similarities in their faces. Both of them have thick eyebrows, kind of similar eyes shape and high cheekbones. According to some netizens, they have similar vibes. However, not everyone agrees with this statement as both actors' faces are also very much different. Take a look for yourself.
Yoo SeungHo is already known for being "Little So JiSub" because of his similarity with actor So JiSub. Especially their eyes have many similarities.
Do you also think like netizens that Yoo SeungHo and WonBin are lookalikes or have similarities?
Share with us your opinions in the poll and in the comment section.
Do You Think Yoo SeungHo Looks Like WonBin?
Read More : Actor Yoo SeungHo Uploads A Video Of Him Driving A Damaged Racing Car On Instagram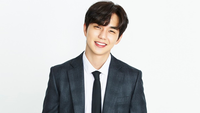 Became a fan of Yoo SeungHo
You can now view more their stories