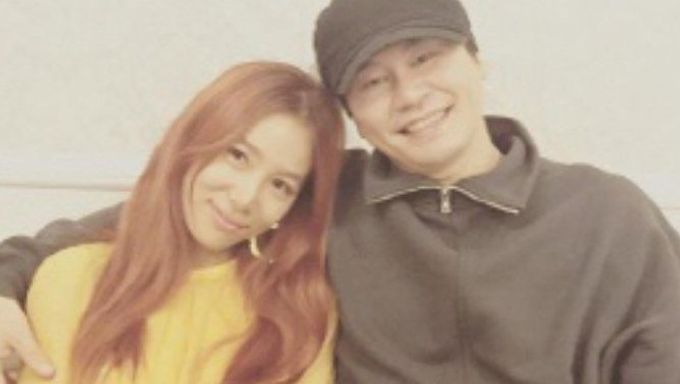 Ever wonder how YG Entertainment CEO Yang HyunSuk and his wife Lee EunJu met? For those of you who aren't familiar with the story, you're in luck as YG's love story has been circulating on various online communities in South Korea at the moment.
Yang HyunSuk appeared on TV show 'Healing Camp' back in 2012  and revealed how he met Lee EunJu.
He explained that the two were secretly in a relationship for around nine years, beginning in 2002, before going public and getting married in 2010. Oh, and it's also interesting to know that they have a twelve year age difference and that Lee EunJu is also the younger sister of former SECHSKIES member Lee JaeJin. Yang HyunSuk was in his early thirties and Lee EunJu was in her early twenties during the beginning of their relationship.
But here's the part where everyone is going bananas about.
Yang HyunSuk stated that he was interested in Lee EunJu long before they began officially dating. He caught a glimpse of her washing the dishes on TV when Lee JaeJin was giving a tour around his house. Lee EunJu was in her middle school years at the time.
Yang HyunSuk stated
"The camera showed her for a brief moment, for around I think three seconds? I saw this little girl washing the dishes and I went, huh?"
In addition, Lee EunJu was also recruited to YG Entertainment and debuted as a member of a girl Swi.T, which disbanded back in 2004. Yang HyunSuk also revealed that he actually was hoping that Swi.T didn't do well commercially as he was afraid that Lee EunJu would become too popular.
Below are some of the responses we've seen from netizens.
Read More : IZ*ONE vs. CLC, Fans Talk About Song That Was Originally Intended For Latter