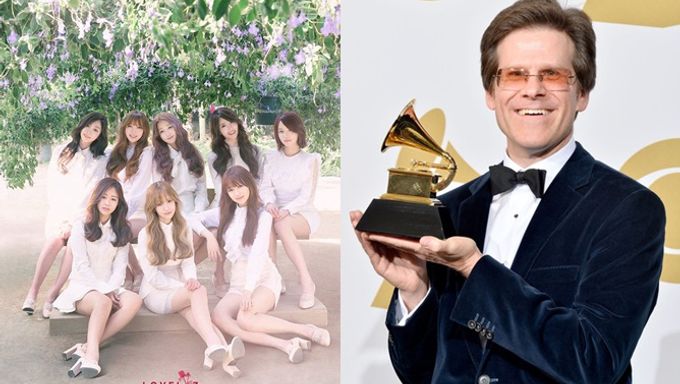 Oh so lovely, Lovelyz, has received a love call from a famous United States producer!
Lovelyz had recently made their comeback with their new album, "A New Trilogy", and the title track "Destiny". The girls have been receiving much love from the K-Pop scene for their refreshing new image, but it seems that the interest has traveled across the Pacific Ocean!
Must Read : New Girl Group of Woolimㅡhome to INFINITE : LOVELYZ Profile
According to news reports, Yoon Sang (one of the producers for "Destiny") had received an email from the internationally famous music producer, Brent Fischer! Fischer has won 2 Grammy Awards and has a stellar history of working with world famous artists, such as Prince, Michael Jackson, Vanessa Williams, Tony Blackstone, Usher, Eric Benet and more. And it seems that Mr. Fischer's new project is set on working with Lovelyz!
Fischer who has always only dwindled in American music showed surprising interest in K-Pop through Lovelyz for their new song, "Destiny". Fischer reached out to Yoon Sang with the thought of bringing Lovelyz to America and working together for their American debut. Woollim Entertainment and Lovelyz has responded positively to Fischer reaching out, and are reported to be considering heavily on this opportunity.
After news broke out of Lovelyz's love call, netizens have been reacting in mixed emotions. The majority of the netizens seem to be skeptical of Lovelyz venturing out into American waters. Some have responded, "But Lovelyz's image is so far from the American style of music...", "Isn't America just about sexy sexy sexy?", "Look at the Wonder Girls' and SNSD's attempt for an American debut... I don't agree." 
On the other hand, a good amount of Lovelyz fans have been positive about the idea. They cheered on for Lovelyz as they responded, "Lovelyz's lovely-ism even travels across oceans", "I'd like to see them in America" and "Lovelyz fighting!".
What do you think about Lovelyz debuting in America? Yea or nay?