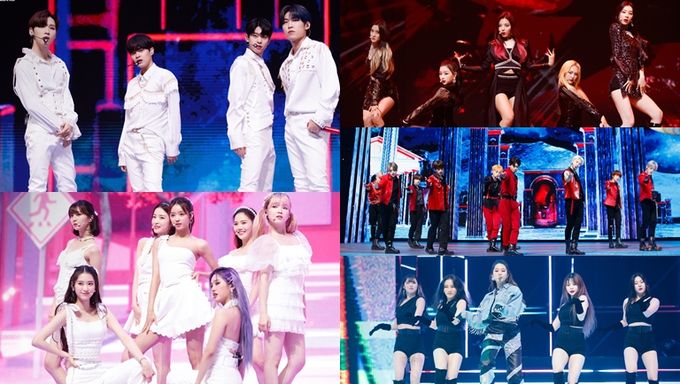 Are you still keeping up with us for "KCON:TACT 2020 SUMMER"? We have just finished watching the 5th day of the one week long online festival and back again to share with you more about the stages yesterday.
If you are curious to find out more about the lineup and previous days, you can check them out below.
AB6IXopened the concert with their performance of 'LOVE AIR'. Through their lovely voices and youthful outfits, they had caused 'love' to be filled in the air.
The boys of AB6IX then headed toward to their Meet and Greet session with Eric Nam. Member WooJin mentioned that it has been a while since they were able to perform, they felt really energetic and amazing when they had opened Day 5 of "KCON:TACT 2020 SUMMER".
Members DaeHwi and Woong showed off their English and Japanese skills respectively by greeting their fans, ABNEW, who had tuned in to the live stream. They then had to go to an 'O' and 'X' game where they agree or disagree with the sentence that was provided to them.
One of it which had caught the attention of many was when WooJin and Woong had to go against each other for an aegyo battle. The remaining two members mentioned how WooJin seemed to have a lot of aegyo these days and is able to beat Woong in it.
In the end, it was proven that WooJin indeed is an idol filled with cuteness despite being a tough rapper in his group.
Moving on to the stages, they had performed to 'Red Up', '_And Me' and 'Dandellion'. It was perfect for fans who were watching their performance as they will also be releasing their new album on June 29.
Their stages had caused them to look forward to the release of the album even more. Make sure to check out their teaser photo for their album "Vivid" below.
TO1is one of the largely talked about rookie groups these day and they opened their stage with a dynamic performance of 'Magnolia'.
With almost a 180 degree switch, they looked adorable and youthful when they performed for their next song 'Take It Slow'.
Most of TOO fans would know that they had also appeared on Mnet "Road To Kingdom" where they get a chance to show off the skills and talent each of them have. They continued by performing to their version of 'Hard Carry' which was seen previously during the survival show.
Those who were watching it definitely knew that they were singing live as after the performance had ended, TOO was trying to hard to catch their breath. They even asked their fans to give them 5 seconds to catch their breath.
They continued by having a 1:1 video call with a lucky fan. It appeared that the fan is really supportive of the group as she mentioned about meeting them in real life when the boys had headed to KCON last year.
TOO was truly amazed by her passion for the group and thanked her for always supporting them.
Raising the tension once again, they stole the attention of the viewers once again by performing to the version 'Rising Sun' as previously seen on "Road To Kingdom".
TOO's Meet and Greet session was also filled with fun and joy as fans get to learn more about each members. They shared how after appearing on "Road To Kingdom", they felt the rise in their popularity as there was a fan who had recognized them on the street.
KyungHo was chosen as the member with the most strength and he had proved them by doing a total of 10 squats by carrying two members! He seemed to have a hard time completing them at first but managed to pull through!
Moving on, they had also chosen member JiSu as the member with the most individual talents. JiSu did not forget to come in front and showed them off too.
In the end, they had also chosen their maknae, WoongGi, as the member with the most aegyo. Aside from WoongGi, the other members had also expressed their adorable sides, receiving many positive reactions from those who were watching.
Thanks to their lively personalities, all of them had a great time together. They could not wait for the time which they will be able meet their fans face to face and wished that everyone would stay healthy!
BVNDIThas recently gained the attention of many K-Pop lovers because of their addictive track 'Jungle'.
Dressed in similar grey outfits with a gorgeous shimmery decorations, BVNDIT was able to charm their fans even more.
Continuing with their stages, they also performed to 'Dumb', another of the title track.
Nattywowed the viewers with her solo stage for her debut title track 'Nineteen'. Despite performing alone, Natty proved to many how she is capable of impressing the audience with her light and carefree dancing as well as perfect vocals.
Once again, Natty had proved her amazing dancing skills and stage presence when she covered NCT's Ten 'Dream In A Dream'.
Her outfits and the contrast of the dancers had gave a fantasy like theme and image.
You might already noticed that both BVNDIT and Natty had prepared special stages and they had raised the levels of collaboration stages.
BVNDIT had first took over the stage with their cover of Red Velvet's 'Psycho'. As for Natty, she had covered 'U Go Girl' by Lee HyoRi.
The two teams then came together and had a special stage by covering NCT 127's 'Kick It'. It was superb as they made sure that they did not miss out the point dance of the powerful song.
Thanks to OH MY GIRL's appearance on Mnet "Queendom" in 2019, the girl group has definitely gained more fans thanks to their unique personalities and lovely music.
It was the first time after "Queendom" where they got to perform to 'Guerrilla' and it is stunning to see how they are able to match grace and strength at the same time.
The 7 girls shared during their Meet and Greet session that they felt really amazing to be able to perform to the song with the special effects and lovely screen set. Ever since they had released their latest album with title track 'Nonstop', they had broke their own record on the number of music show wins for the first time since their debut.
In addition to such good news, their B-side track 'Dolphin' is also receiving a lot of love from many.
Moving on to the official talk session, member JiHo shared an interesting thing about herself after revealing that she does not have a pouch to hold her stuff. She prefers to just put everything in her pocket, alarming the rest of the members.
In addition, member YooA also shared how Mimi is the most well like members of her parents. It was also revealed that both YooA and Mimi's parents are actually very close with each other! They had even went on a double couple trip recently.
The tension of OH MY GIRL never seemed to drop as it rose even higher when they moved onto the game section. Member SeungHee had to defend her title as the member who is most capable of mimicking and leader HyoJung had to defend hers as the best part timer.
Through various hilarious and interesting scenarios, their fans, MIRACLE, had a great time laughing at how funny all 7 of them are. It seems like the members are definitely close with each other and have the perfect teamwork with each other.
OH MY GIRL then performed their latest title track 'Nonstop'. Each of them looked youthful and beautiful with the colourful themed set.
They also did not miss the chance to have a 1:1 video call with their fan who is said to be from Japan.
SeungHee had cutely put on a sunflower mask, earning the squeals of many fans who were watching the live stream.
Continuing, they sang a soothing song 'Krystal', allowing many to check out their vocal skills. MIRACLE are also touched when they sang their debut track 'Cupid'.
At the end, OH MY GIRL made time for a special photo session for MIRACLE and closed up day 5 with their final performance of 'Dolphin'.
Day 5 concluded successfully and it is amazing to see how so much K-Pop fans have been gathering to show support for the favorite artists.
Are you excited for the remaining days of fun?