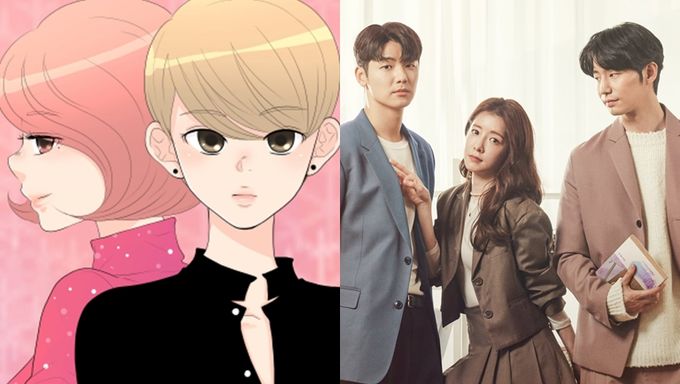 "Not Yet Thirty" is based on the female-centered romance webtoon "Born in 1985"  by HyeWon. KakaoTV is adapting the webtoon into a web drama. It is one of the numerous dramas of 2021 adapted from webtoon.
Jung InSun ("Welcome to Waikiki", "My Secret Terius", "Psycopath Diary"), CNBLUE's Kang MinHyuk ("The Heirs", "Hospital Ship"), Hani ("XX", "SF8"), Song JaeRim ("Clean With Passion For Now", "I Wanna Hear Your Song"), Cha MinJee ("Priest", "Born Again"), and rookie actor and model Baek SungChul are the lead actors.
Kang MinHyuk will be acting in his first drama since his discharge from his mandatory military service (March 2020). His last drama was in 2017 with "Hospital Ship".
The web drama will be released every Tuesday and Saturday at 5 pm KST.
Here is more information.
Not Yet Thirty(2021)
Information
Title: Not Yet Thirty / Not Yet 30 / Ajiknasseoreun / 아직낫서른
Director: Oh KiHwan
Writer: Jung LeeJin
Network: KakaoTV
Runtime: From Feb. 23
# of Episodes: 15 (20 min)
Genre: Romance
Language: Korean
Summary
In between the cold winter and the warm spring, thirty is when you are too warm even if you want to turn cold.
It tells the mature romance and work of 3 women of 30-year-old who have become clever and smart enough but who like before still wander and sway.
Cast
Jung InSun as Seo JiWon
She is a famous webtoon writer.
CNBLUE's Kang MinHyuk as Lee SeungYoo
He is a planner at a webtoon company and he is the first love of Seo JiWon.
Hani as Lee RanJu
She is a sincere and confident announcer.
Song JaeRim as Cha DoHoon
He is a movie director whose intentions are hard to know.
Cha MinJee as Hong AhYoung
She is a pub owner who works all-in.
Baek SungChul as Hyung JoonYoung
He is a younger man (24-year-old) who is straight forward in his feelings for RanJu.
Posters & Teaser
Here is one of the teasers.
Here are the official posters.
About the webtoon
The drama is based on the webtoon "Born in 1985" (in Korean "85년생") by HyeWon. You can read the webtoon here in Korean (only).