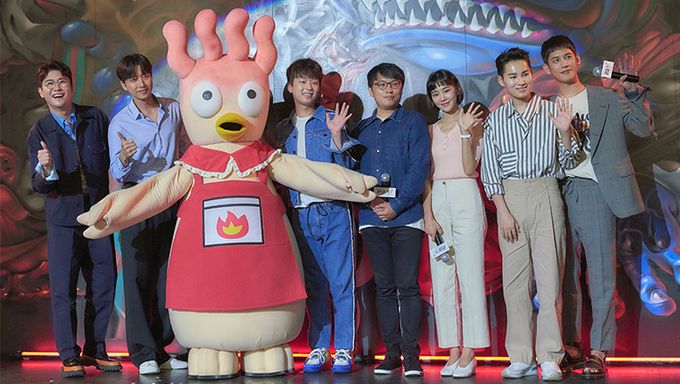 On May 28, 2020, one of the latest office comedy, "Kkondae Intern"(MBC) and its production company "StudioHIM" held a press conference and shared how the drama is going and behind stories about the drama.
Director, Nam SungWoo, the protagonist, Park HaeJin(as "Ka YeolChan"), Han JiEun(as "Lee Teri"), and Park KiWoong(as "NamKoong JunSu") have attended this conference and shared several thoughts about the recently launched drama.
For some of you who's unfamiliar with the drama, "Kkondae Intern" starts off as the intern "Ka YeolChan" begins working at a company called "Ongol". Sadly, he goes through harsh, heartbreaking moments as he works under a "Kkondae"(usually refers to a person who is old school, condescending and rigid) boss, "Lee ManSik"(Kim EungSoo) which later ends up leading him to quit his job.
However, after five years, the table turns in a dramatic way as YeolChan becomes successful in his next job and leaps his way up the corporate ladder while Lee ManSik who also "quits" his job at Ongol, later ends up working for YeolChan as a senior intern and this is where the show officially starts.
Throughout the show, YeolChan conducts petty vengeance against ManSik as he now becomes somewhat of a Kkondae – which is far from YeolChan's actual characteristics – and shows ManSik's struggles as he tries to fit into an environment he had long forgotten.
Currently, 8 episodes have been released and the viewers are loving it! Even if you are not familiar with the working environment in Korea, I'm sure you have interacted with at least one "kkondae" in your life and this drama will be somewhat of a guilty pleasure for you!
It has only been the 2nd week of broadcasting so it's quite early to tell whether the drama is doing well or not. However, I do check the comments about the drama and whenever people say that they haven't laughed this much in a while, it gives me the strength to do better! I hope this drama brings joy to many –Han JiEun
During the press conference, Park HaeJin also shared about the Ramyun commercial he took which appears in the drama.
When I first saw the draft, I asked the director if he is actually going to do this. The answer was 'yes' so I went right on to it and started preparing for the choreography. I didn't expect the outcome would be so well made.–Park HaeJin
Luckily, the commercial will not go to waste as the instant noodle that appeared in the drama, "HOT DAK Ramyun" will actually be sold in Korea starting June along with "Kkondae Latte"(coffee) and "Kkondae Doshirak"(lunch set).
A heartwarming story was also shared by Park KiWoong as he talked about his long-kept friendship with the singer, "YoungTak" who have participated in singing the original soundtrack for the drama.
Youngtak and I were close friends long before our debuts. We shared our dreams together and endeavored to pursuit to become I as an actor and YoungTak as a singer. The fact that we are working together in this drama was really something else. –Park KiWoong
As the conference was reaching an end, the director, Nam SungWoo commented about what to expect for the upcoming episodes.
You'll see a diverse change in YeolChan's character and the senior intern, ManSik will actively engage in every episode as he had been in the past episodes. Overall, all the characters that appear in the drama have their own unique character that will stand out in each episode so we hope that you look forward to that as well. –Nam SungWoo
This is just the beginning of the show and there is so much more to come that will make you laugh. I hope that it can give joy to everyone who watches it.–Park HaeJin
"Kkondae Intern" airs Wednesdays and Thursdays 8:55pm(KST) on MBC and OTT services, Wavve and Viu.
Read More : 10 Most Searched Dramas In Korea (Based On May 24 Data)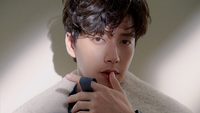 Became a fan of Park HaeJin
You can now view more their stories