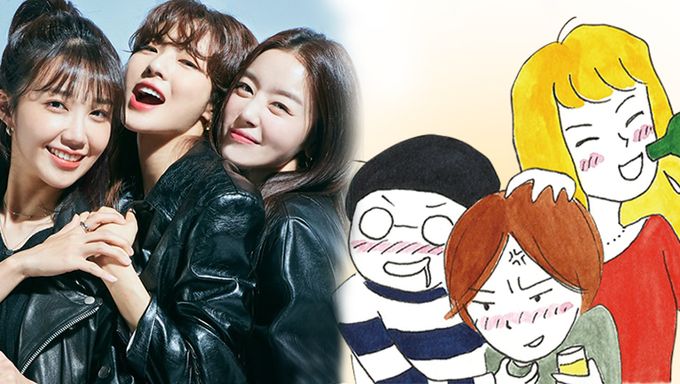 "Work Later, Drink Now" also called "Oh My Liqueur" is a drama about the lives of three women who believe the day should always end with a drink.
The drama is an adaption of the webtoon "Drinker City Girls" (in Korean "술꾼도시 처녀들") by MiKkang. It is one of the numerous adaptations of 2021 (check the lineup of webtoons to be adapted into a drama in 2021 here). 
The leads in the drama are Apink's Eunji, Lee SunBin, Han SunHwa, and Super Junior's Siwon.
Apink's EunJi started her acting career with a major role in the drama "Reply 1997". She has since appeared in the dramas "That Winter, The Wind Blows", "Trot Lovers", "Cheer Up", "Crime Scene 3", and "Untouchable".
Han SunHwa has appeared in the dramas "School 2017", "Radiant Office", "My Contracted Husband", "Backstreet Rookie", "Save Me 2" and "Undercover."
Lee SunBin is a film actress best known for her appearances in "The Princess And The Matchmaker", "Rampant", "Me And Me", "Okay Madam", and "Mission Possible." 
Super Junior's Siwon has an impressive acting background as he started to appear in dramas early on in his idol career. He has had major roles in the dramas "The King of Dramas", "She Was Pretty", "Revolutionary Love", and "My Fellow Citizens!"
The drama adaption made a few changes as far as the character's names and careers. There is no official statement specifying which actress was inspired by which webtoon character as of yet but, Kang JiGu seems to be inspired by the webtoon character GoMyeong (GuMi), JiYeon as Shim MiHan (RiWoo), and SoHee as Jung JinAh (JeongTtung).
A production team member said "This drama will provide comfort and fun with a universal story and a setting that you can relate to. We cast actors who fit the charm of the characters, so we will present a convincing and immersive drama."
Here is more information.
Work Later, Drink Now (2021)
Information
Title: Work Later, Drink Now / Oh My Liqueur / City Girl Drinkers / Sulkkundosi Yeojadeul / 술꾼도시여자들
Director: Kim JeongSik
Writer: Wi SoYoung
Network: TVing
Runtime: From October 22
# of Episodes: 10
Genre: Comedy
Language: Korean
Summary
A full-fledged authentic drama depicting the daily lives of three women who believe every day should end with a drink.
Cast
An origami YouTuber who can only focus on one thing at a time.
Han SunHwa as Han JiYeon
A Yoga instructor who specializes in creating synergy with her charm.
Lee SunBin as Ahn SoHee
A broadcast writer.
Super Junior's Siwon as Kang BukGu
An entertainment PD who is very passionate about his work. He has fallen for Ahn SoHee, a member on the same team as him at work.
Teaser & Posters
Here is one of the teasers.
Here are the official posters.
About the Webtoon
The webtoon "Drinker City Girls" (in Korean "술꾼도시 처녀들") was written by MiKkang. To read the original webtoon (in Korean) click here.
Have a glimpse at the webtoon below.