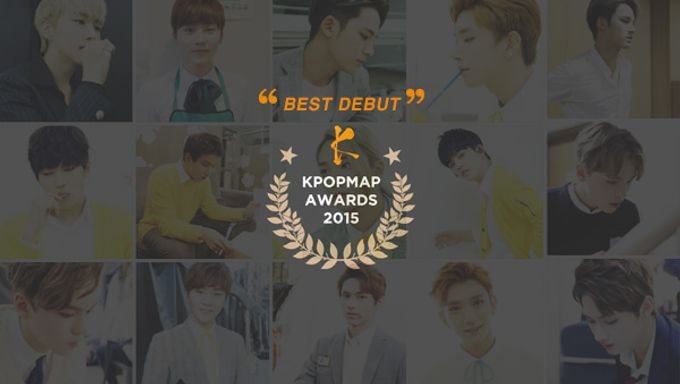 The 13 membered boy group, SEVENTEEN, has been spotlighted since they debuted in last May.
To celebrate year ending of 2015, Kpopmap has picked HOT issues of this year. The special selections are accumulated all about the topics of the past postings, which have got lots of attention, on the Kpopmap web site. From dating to debut of new competent musicians, there are numerous things to talk about, but Kpopmap has picked the top striking issues among them through strict selecting process. 
Must Read : SEVENTEEN Profile
One Year With SEVENTEEN : 2015 Debut
(By Kpopmap)
SEVENTEEN consists of three units, Hip-Hop, Vocal and Performance. SEVENTEEN members had made all songs of their all albums by themselves. Woozi produced, S.Coups, Vernon, Mingyu, and Wonwoo participated in writing and composing songs, Hoshi takes a charge of performances, so SEVENTEEN has been well known as 'Self-Production Dol'. They have shown great achievement in 2015. SEVENTEEN set a record as 160 thousand albums, the debut album, '7 CARAT' and, second mini album, 'BOYS BE', sold, and which is the most amount of album sold of boy rookies in 2015.
[ SEVENTEEN hip hop unit ]
[ SEVENTEEN vocal unit ]
[ SEVENTEEN performance unit ]
SEVENTEEN got the NO.1 boy rookie of the year 2015 with their amazing amount of albums sold. SEVENTEEN is a 2015's rookie, but they ranked at 4th of the album sales chart for their first album, 17 CARAT, and showed the leading achievement among other boy rookie groups. Besides, they got a lot of attention not only in domestics, but abroad as well. In last Nov, SEVENTEEN was picked in the 'Billboard's 21 Under 21 chart' and was only Asian musician there. Besides, they got 2nd at the most viewed K-POP MV chart, and won the 1st for two weeks at the GAON social chart.
[ Billboard's 21 Under 21 chart ]
SEVENTEEN received the rookie of the year 2015 at awards in Philippine, 7th ANNUAL PHILIPPINE KPOP CONVENTION, 7 months after they debuted. According to SEVENTEEN's agency, SEVENTEEN attended on the 7th Philippine K-Pop Award, which was held under the 'BACK TO BASICS' theme, and they had a good time with their fans there. A Rep of the agency said, "SEVENTEEN has grown up as the global singer. It is happy to see they are acknowledged as a competent K-Pop musician abroad."
[ 7th ANNUAL PHILIPPINE KPOP CONVENTION ]
SEVENTEEN held their solo concert '2015 LIKE SEVENTEEN-Boys Wish' from Dec 24, Christmas Eve, to 26. The agency started the concert's ticket sales from November 24th, and the tickets were all sold out only a minute after sales started. In the concert, SEVENTEEN showed performances for both undisclosed songs and their album's songs for LIVE. SEVENTEEN interviewed, "This concert is prepared as a Christmas gift for our fans. Expect our brand new performances there."
[ SEVENTEEN's 1st solo concert poster ]
SEVENTEEN's 7-month achievement was the greatest ever comparing to other rookies. Their amazing movement in 2015 makes us to predict their shining 2016.