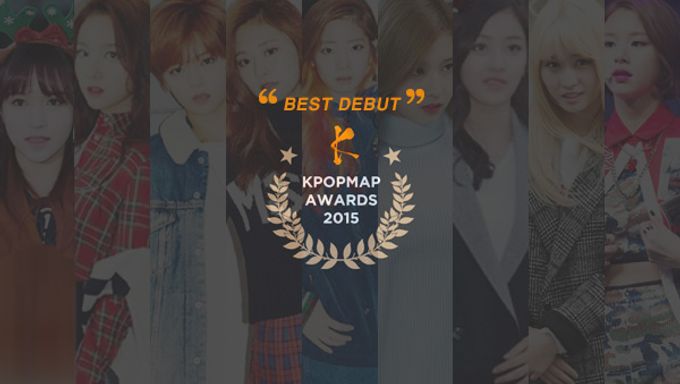 TWICE is the 2015's girl group rookie, JYP has produced 5years after Miss A.
To celebrate year ending of 2015, Kpopmap has picked HOT issues of this year. The special selections are accumulated all about the topics of the past postings, which have got lots of attention, on the Kpopmap web site. From dating to debut of new competent musicians, there are numerous things to talk about, but Kpopmap has picked the top striking issues among them through strict selecting process. 
Must Read : TWICE Profile
One Year With TWICE : 2015 Debut
(By Kpopmap)
The 9 membered girl group, consisting of 5 Koreans, 3 Japaneses, and 1 Taiwanese. They got spotlighted for the TV survival program, 'SIXTEEN', and accumulated huge fandom before their debut. They made a TWICE BOOM after they debuted. TWICE won the rookie of the year at MAMA 2015 only 2 months after they debuted and their debut song, 'Like OOH-AHH' hit like keeping its range in 10th to 20th of music charts. Moreover, their 'Like OOH-AHH' music video has got 21,016,138 views, and this is notable when reminding they are rookie girl group. Their movement never end in music field, but they have contracted commercials for about 9 brands.
[ TWICE at MAMA 2015 ]
[ TWICE Like Ohh-Ahh MV ]
Their dramatic movement is resulted from their appearance at Mnet's survival TV show, 'SIXTEEN' before they debuted. It was hosted by JYP to pick their new girl group's members through tough auditions. It had to be tough since it was for their new girl group 5 years after producing Miss A, so the project was very meaningful and crucial to JYP. Although there was some controversy happened during selecting the final members of TWICE, we will discuss this in the following paragraph, JYP is praised for producing a perfect idol girl group.
[ SIXTEEN at a press conference ] 
Even though there are many bright sides of TWICE, still there are some controversies. Then, let's look over what the controversies are like.
1. MOMO as the final member for TWICE
At the last episode of 'SIXTEEN', MOMO was picked as the final member of TWICE. However, some netizens criticized for the JYP's decision. She was dropped out, but Park Jinyoung decided to add her with comment, "she will complete the performance", but many netizens claimed that it was unfair and why survival was necessary at the first place if Park Jinyoung did whatever he liked. Especially, the popular promising member, SOMI, was dropped, the controversy got bigger. Mnet and JYP apologized for the miscommunication about the format of the program, 7members for survival, 1 from the viewers' vote and 1 picked by Park Jinyoung producer. It was processed as was planned, according to them. The final members are Nayeon, Jeongyeon, Dahyun, Mina, Sana, Chaeyoung, Jihyo, Tzuyu (Viewers' vote), and MOMO (Park's pick).
[ Momo in final episode of SIXTEEN ]
2. Inappropriate School uniform commercial
Park Jinyoung and TWICE's commercial for school uniform was controversial for its sexually suggestive message. Thus, JYP decided to re-shoot the CF reflected by the inadequate indications. The commercial's main message is, "Cut with Skirt!! Shading Skirt!! Tight with Jacket!! Sorset Jacket!!", with a poster, Park Jinyoung, wearing sunglasses, seemed to enjoy watching TWICE's body lines with the school uniform and TWICE showed off their sexy charm with the uniform.
This was pointed out by health education teachers of Gyeonggi's provincial Education Ministry. They requested check of social level. They claimed that media's excessive presenting woman's too idealistic body figure has affected teenage girls to long for and want to be the abnormal figure.
[ Ad Image of TWICE with School Looks ]
In spite of the controversies, TWICE have been loved by numerous fans. They have resolved the problems and grown to be better girl group. Currently, TWICE members are busy with preparing for the next album. Their great effort makes us to expect their future movement.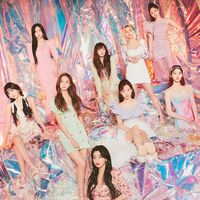 Became a fan of TWICE
You can now view more their stories