Four months ago, Onew of SHINee was involved in a sexual harassment controversy as an assailant. The press was noisy about what was going on, what is going to be happening and so on. However, there wasn't any word from SM entertainment as well as Onew, himself.
When the controversy broke, Onew dropped from his "yet-to air" drama and remained silent since. A lot of fans seemed to have been worried about him, despite the fact that he was involved in such controversy. However, it was too easy to get the awaited fans furious.
Without saying a word of apology for four months and not even appearing at any schedules SHINee had including their tour in Japan, Onew appeared in the season greeting trailer. Fans were stunned by his attitude coming back as if nothing has happened.
Furious fans started a boycott to not purchase any season greeting good of the group. In the biggest official fan café run by Daum.net, gathered signatures for Onew to disband from the team. Numerous fan cafes have already stated that they will only support the rest of four members, excluding Onew because they do not want the unrelated members to be condemned because of him.
As things started to go crazy for Onew, he instantly posted a handwritten letter of apology, which set the fire of fan's anger. Some fans are refusing to read his letter for it is meaningless. This is what he wrote in his letter,
Hello, this is Onew.

I am so sorry to only deliver the worst news to those who have supported me and loved me. I have given you great disappointment through the four months of my time of silence. I have taken the time to look back on my actions and condemned myself for it. I was too sorry to put my apologies into words, and I know it's too late. I had to be more careful and responsible even though I was spending time not as an idol, but as an individual… I am so sorry to give you disappointment, not living up to the attention and love. I feel so sorry to my members who have been with me for nine years. I want to apologize for the people I have shocked including my parents and fans. I will always remind myself of what I've done and be more strict on myself. I will try my best to fit in the name of SHINee, as an idol and as an individual.  
The offense fans felt against Onew and SM entertainment does not look like it's going to cool down easily when gender issue is a hot potato in Korean society today. Crimes involving sexual harassment will not be forgotten easily like it did in the past. His letter of apology did not smoothen fans' mood, but only made them more furious. What would happen from now, would probably be in the decision of the entertainment.
Must Read : Onew of SHINee Gets Arrested for Sexual Harassment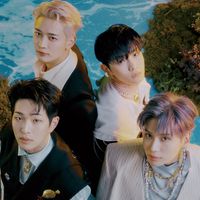 Became a fan of SHINee
You can now view more their stories