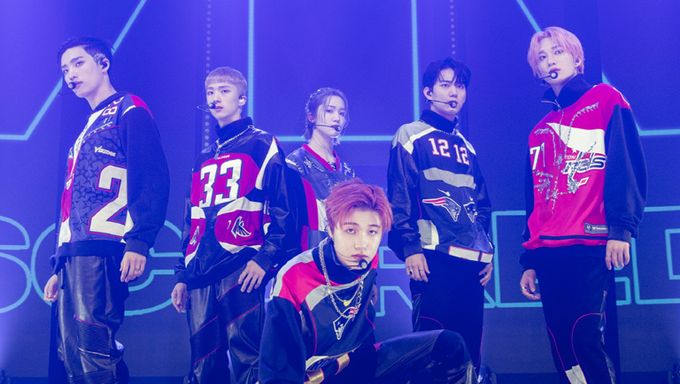 After making their dynamic debut in October 2020, the boys of P1Harmonyare returning with their 2nd mini album "DISHARMONY : BREAK OUT".
It consists of a total of 6 tracks- 'Scared' (title track), 'Reset,' 'Pyramid,' 'AYAYA,' 'End It' and, 'If You Call Me'.
Kpopmap was invited to attend their offline showcase and we are here to share with you some of the exclusive information that we have gathered.
The boys opened the showcase with their performance of the title stage 'Scared'. It was refreshing and surprising as not many showcases began with live performances.
From flashy lights to smoky effects, P1Harmony appeared on stage with a group of dancers wearing matching outfits that drew inspiration from American football. The stage was spectacular and the members were perfectly synchronised.
There was no doubt that after the performance, all of them were panting, trying to catch their breath.
After taking a short breather, each of them greeted the reporters with their signature introduction. Their smiles had definitely brightened the stage and all of them were excited about their comeback.
Sensing their nervousness, the MC tried to break the ice by asking what they felt compared to their first debut.
As it has not been long since they had made their debut, Theocompared the difference as a trainee and an idol. He mentioned that he gained the know-how that could only be realised after debuting.
Introducing the mini album, JiUngmentioned that similar to the message they are trying to express, he wants to believe in himself and give himself the courage to embrace what the future holds for him.
The short chat ended and it was soon before the boys prepared for the live stage of their B-side track, 'Reset'.
Once again, P1Harmony blew the mind of the reporters with their well-matched dance moves, perfect facial expressions, and incredible stage performance.
They returned on stage, ready to share more about their mini album as well as answer the questions which reporters had prepared.
The first question was directed towards the inspiration this mini album drew from American football.
InTakshared that they were inspired by American football because of how the players showed perseverance and put on a strong fight to get to their goal.
Learning from the spirit of the American football players, they want to show the message that they are also ready to 'fight' for their dreams without feeling scared. In relation to how the players would touch down, they want to be able to achieve their dreams by 'touching down' or in other words, achieve their goals.
JongSeobadded that since they made use of the ball from American football as part of the choreography, it was new and fresh to them.
However, they had to practice a lot since they were unfamiliar and had to deal with unexpected problems that occur during practice.
Moving on, the MC pointed out that the music video is a masterpiece and asked if any of the members could share an experience similar to the story shown.
JiUng recalled and shared that while he was a hardworking student in school with good grades, he also loves dancing and music. When he told his parents his dream of becoming an idol, they objected to it.
With that being said, he mentioned that he had to 'fight' for his dream and adorably suggested that it seems similar to the message which the album is trying to deliver.
JongSeob added that through the experiences shared by each member, they were able to complete this mini album.
Speaking on the goals they have for this promotion, maknae Soulshared that he wishes people from all over the world would be able to get to know P1Harmony through their music.
JongSeob continued by sharing that he hoped that through this promotion, he and the rest of the group will be able to show a more refined and professional image.
KeeHoagreed and elaborated by sharing that when he debuted, he felt nervous. He hoped that through this promotion, he would be able to show the more 'relaxed' side of him on stage.
Moving on to the things they were unable to do because of the world pandemic, InTak shared his opinions.
He found it a pity that he is unable to meet personally with fans but because of that, he could feel the love and support from them even more. As such, he feels the desire and passion to work even harder to repay fans no matter where they are from.
JiUng also shared that because of the safety regulations, they tried their best to communicate with fans through online fanmeeting as well as produce interesting content.
Later, JiUng was also chosen as the member who takes the lead in dance practices. InTak was also selected by JongSeob as the member who practices the most.
He shared that when they were on break, he noticed how InTak barely rested and spent his time working on his steps.
Continuing, KeeHo talked about the importance of communication when it comes to teamwork.
For instance, he recalled a time where the members talked about the things which they might be uncomfortable with and work on it together. He believed it is the feedback from every member that allows P1Harmony to have such great teamwork.
When asked about their goal for this year, Soul shared that it would be nice to receive the 'Rookie Awards'. Theo hoped that P1Harmonny will grow as a group that is capable of showing off its own musicality and colour.
JongSeob also wants to show various performances to fans.
One interesting question was also asked to P1Harmony as a reporter asked if they had received any advice from their senior group, SF9who is currently appearing on Mnet "KINGDOM: LEGENDARY WAR".
InTak shared that he is a huge fan of SF9's Yoo TaeYang and even tried to follow his solo dance by practicing it. Soul mentioned that he looked up to SF9 as a group and pointed out that he found them really handsome.
KeeHo said that they bumped into them often in the practice studio and they always encouraged them. He appreciated how they were always telling them to 'himnae (find strength)' and emphasized that P1Harmony is also rooting for them on the survival show.
Finally, the boys were also asked about how they find inspiration for their songs.
They shared that the company usually sets a theme and then they would slowly branch out. Each of them would think from their experiences and pen down their thoughts and how they feel about certain topics or issues.
As such, that is why the music from P1Harmony is relatable to many people as the inspiration comes directly from the members.
The showcase ended on a happy note and the members look confident and ready for their comeback.
We hope that fans would love their latest mini album and we also can't wait to see how they will continue to grow as a group!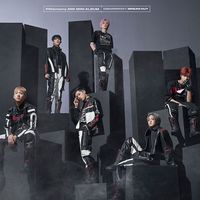 Became a fan of P1Harmony
You can now view more their stories