Park EunBin Profile: From Elegant to Unruly, Actress Well Fitting in Any Role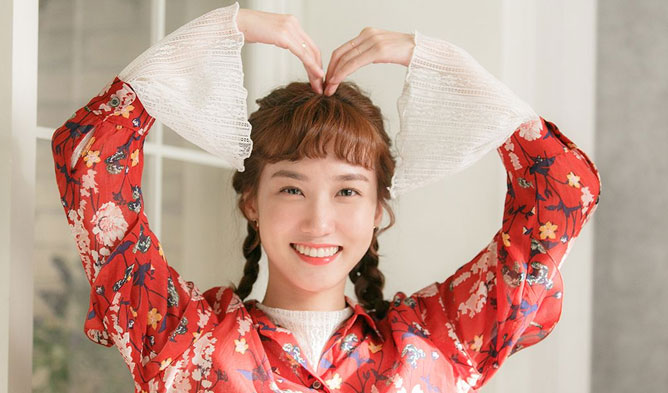 People say the actors and actress born in 1992 are making the craziest boom these days.Who are 1992 born? Let's see. Kim JiWon, Woo DoHwan, Yang SeJong, Jang KiYoung and Park EunBin.
The rumor  "casting 1992 born actors/actress will no doubt, bring success to the drama or movie" seems to be true after. From "Age of Youth", "The Temperature of Love" "Mad Dog" and "Fight for My Way". All these dramas starred with actors/actresses born in 1992 had such a big hit. You haven't heard of them? Any of them?  Uh-oh someone's falling behind from the trend. Don't worry, Kpopmap's gotcha.
Must Read : 2017's Rising Actors & Actresses Who Were Born In 1992
Well, a brief biography of 5 hottest celebs weren't enough for you, you do really have to go through the profiles! As a start, here is the crazy-cute free-spirited actress from "Age of Youth", Park EunBin!
Park EunBin Profile
(NAMOOACTORS)
Park EunBin
Birthday: 1992.09.04
Height: 161 cm
Weight: 43 kg
Family: Parents and Older Brother
Academic Status: BSC Psychology and Journalism in SeoKang University
Debut: 1998
Filmography:
Movie)
2000: The Maiden's Prayer (Major)
2002: Memories, The Romantic President
2004: How to Keep My Love (Major), 1.3.6
2010: Death Bell 2: Bloody Camp   (Major)
2013: Secretly, Greatly
Music Video)
Without You – BoM
Like a Star – TaeYeon & The One
I'll Be There – TaeYang of BIG BANG
Romantic Winter – Kim JinPyo
Cold – Lee KiChan
Thank You For Loving me – S.Jin
I Still Don't Know – Yoon Gun
Doll – Baby V.O.X
You & I, Amused – Acoustic Collabo
Drama)
1998: White Nights 3.98 (Debut)
1999:  Best Theater, I don't Know Anything But Love
2000: Best Theater, Daughter of the Theif
2001: The Last Empress, The Merchant, Guardian Angel, EBS Drama: Our Theater
2002: My Love Patzzi, The Inexorable Love, Glass Slippers
2003: Age of Warriors, Country Princess, The King's Woman,
2004: Song For You
2005: Resurrection, Hong Kong Express, EBS Drama
2006: Seoul 1945
2007: My Beloved Sister,  The Legend, Catch a Kangnam Mother, Lobbyist
2009: The Iron Empress, The Great Queen Seondeok
2011: Dream High, Gyebaek: Warrior's Fate
2012: Operation Proposal,
2013: Gu Am Heo Joon
2014: Secret Door
2016: Age of Youth SE1
2016: Father, I will Take Care of You
2017: Age of Youth SE2, Nothing to Loose
Age of Youth SE1
Age of Youth SE2
Instagram & Twitter & Daum Cafe