The top popular drama "What's Wrong With Secretary Kim" ended with perfect ratings and popularity. Park SeoJoon ended up being first in Korean drama actors and actresses Brand Reputation Index ranking for August 2018.
Here is a list of all his commercials, currently 13!
1- Shinsegae Duty Free
With the actress Han HyoJoo, he recently got the commercial at Shinsegae Duty Free.
2- Amore Pacific for a shampoo
The actor is perfectly selling the shampoo, take a look at the ad below.
 3- Domino's Pizza
Domino's Pizza was well known for having the cute couple Park BoGum and Song JoongKi as their models. It recently changed to Park SeoJoon.
 4- Kookmin Bank
He is representing Kookmin bank. He looks great in the ad.
5- CJ's Bibigo
Here, he is doing a commercial for Korean food brand own by CJ.
6- Montblanc Korea
Park SeoJoon is also a model for the fashion brand Montblanc.
7- Woongin 
He also promotes water purifiers of the brand Woongin.
8- Olleh 5G of KT
The actor is also the model for this telecom company.
9-  HiteJinro's Max
Here, he is model for the beer MAX.
10- HiteJinro's Chamisul
He is also the model for the soju brand Chamisul with IU.
11- HotelsCombined
The actor is the model of this hotel reservation service, HotelsCombined.
12- GongCha
The tea cafe brand GongCha changed their model. It was previously Lee JongSuk, you can check the brand's previous pictures here. It is now Park SeoJoon.
13- Laneige
He is also representing the cosmetic brand Laneige for men and women cosmetics!
Read More : Park SeoJoon Takes Over Lee JongSuk Tea Cafe Brand Ad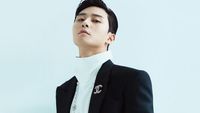 Became a fan of Park SeoJun
You can now view more their stories