The recent heated debate over whether BTS should be exempt from South Korea's mandatory military service has caused many problems for the nation at the moment.
In fact, the whole debate has caused substantial damage to Big Hit Entertainment and ARMY in the most unfortunate way.
In case you're wondering what all of this is about, South Korean politician's recent statement can tell you a lot about what transpired. He stated
"My previous statement about BTS had no political motives. I was merely trying to break the prejudice against K-Pop music since only classical musicians are able to legally be exempt from military service through world-class achievements. Also, there have been many news agencies reporting that ARMY have been requesting that BTS be exempt from the military. That is not true in any way. I was the one who talked about it and I regret that BTS had to be dragged in unfairly into this political mess.  If BTS are guilty in any way, it is that they have been too great."
In addition, it has also been reported that while Big Hit Entertainment showed no effort to try and set guidelines and standards for K-Pop idols being exempt from military service, other agencies such as SM, JYP, YG, FNC, and Jelly Fish were discussing on how to set such standards for a law to be made. Once news got out, netizens criticized the K-Pop agencies as they felt they were letting Big Hit Entertainment, BTS, and ARMY take all the criticism while they were busy behind the scenes trying to take advantage of the situation for the benefit of their company.
The irony of the whole situation is that Big Hit Entertainment and ARMY never suggested military exemption for BTS, but are now being wrongfully criticized for doing so while it was the other agencies who have been devising a plan to achieve it once things got out of control.
Read More : The One Thing That Korean ARMY Hates About BTS's Agency Big Hit Entertainment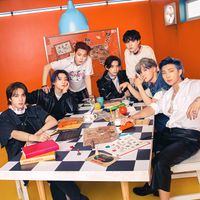 Became a fan of BTS
You can now view more their stories