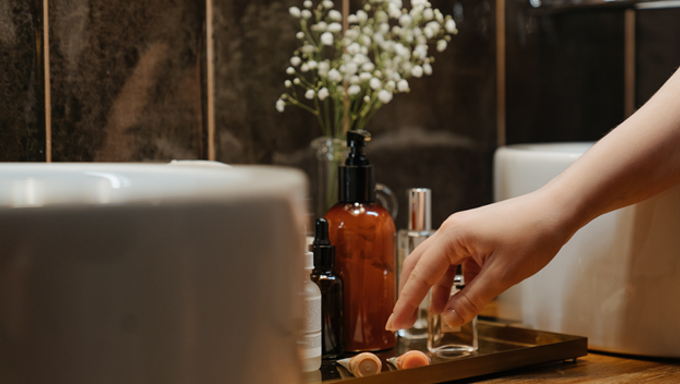 There's no overstating how Korea's cultural influence is getting more powerful by the day. With hit dramas like Crash Landing On You and bands like BTS being enjoyed by millions, the country is gaining a lot of recognition across the world. Then again, pop culture isn't the only proponent of Korean culture — beauty and skincare are, too.
In recent years, there has been a massive surge in interest in K-beauty products. More and more people are picking up the ever-popular 10-step beauty routine and dabbling in a variety of items shipped straight from across the pond. But if you're an Asian beauty newbie, it's always best to be extra careful of what you apply on your skin.
If you have nary an idea on which ingredients to look for when you shop, here is a quick primer:
Green tea extract
Known as a superstar ingredient, it's not a surprise that green tea-infused products are being used and endorsed by actual superstars like Park Min Young.
It's known to have anti-inflammatory, antioxidant, and antibacterial properties, making it effective in fighting acne, rebuilding collagen, and repairing cells that were damaged by the sun. It's also capable of forming a layer of protection against environmental stressors, which is why products like the Sooryehan Hyobidam Moisture Cream have the ingredient high up in its ingredient list. But given how beneficial it is for the skin, it is also found in tons of skincare products, including sheet masks, cleansers, creams, and scrubs.
Hyaluronic acid
If slowing the signs of aging and improving your skin's moisture levels is your goal, you won't go wrong with hyaluronic acid. This humectant is capable of holding 1,000 times its weight in water, which Healthline notes results in helping your skin feel and look extra supple. It's no wonder then that popular products feature this ingredient.
In Japan, Hada Labo is a well-known skincare line that is known for using hyaluronic acid in their moisturizers. Pretty Me's review of Snail White Whipp Soap highlights a variant of hyaluronic acid as well, emphasizing how it hydrates and refreshes your skin. Products that feature this ingredient will often leave you with plump, dewy skin, so it's best to incorporate HA into your skincare regimen if you're having issues with moisture.
Snail mucin
What seemed like a gimmick at first is actually a pretty powerful ingredient. In fact, it's rare that you'll find an Asian beauty ingredients list without snail mucin. Considered one of the holy grails in Asian beauty, this snail secretion filtrate is composed of properties like glycoproteins, hyaluronic acid, and glycolic acid, all of which have long-documented benefits for the skin.
Dermatologist Joshua Zeichner also notes that it delivers statistical improvements in facial lines and wrinkles. The ingredient is mostly found in facial creams and sheet masks, but the soaring popularity of CosRX's Advanced 96 Snail Mucin Power Essence goes to show how it's worth looking into other snail-mucin goodies too.
Egg white
Another ingredient that seems too foolish to be true is egg white, but it actually offers a slew of benefits that are good for the complexion. It's believed to control oil, reduce puffiness, and reduce the appearance of pores.
Products like the Skinfood Egg White Pore Foam Cleanser are worth trying, but you can always make your own egg white mask at home. All you have to do is crack open an egg via its midpoint, collect the egg white, beat it until it's stiff, and mix it with lemon juice and honey.