UPDATED: Produce 48 Korean Trainee Members Profile: Mnet New Survival Show's Girls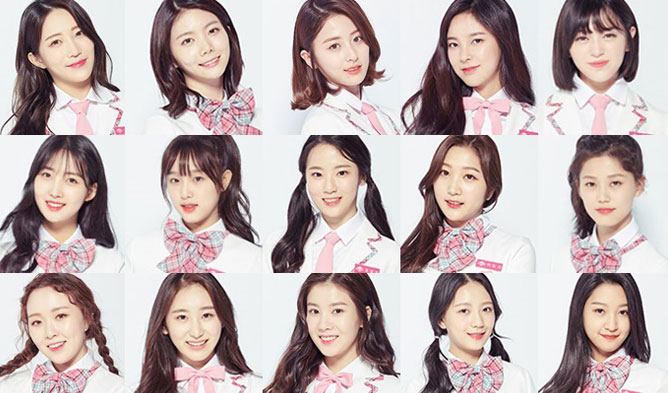 "Produce 101" Season 3 or "Produce 48" (Mnet) is gaining much attention!
Korean trainees and Japanese trainees participate in this survival show. In the end, the debuting girl group will promote for 2 years and 6 months. It was also previously mentioned that they will have better wage than previous seasons.
After the rumored list of Korean trainees for "Produce 48", here the official list of the non-Japanese trainees, mostly Korean but also other nationalities are also included. You can also check the current most popular Produce 48 trainees in South Korea!
Here is the profile of the girls. The list is currently uncompleted as Mnet did not release all of them, we will update when they do.
(Kpopmap has come up with a virtual voting system just for international fans! You can access the voting right here.)
Produce 48 Koreans And Non-Japanese Trainee Members Profile
Years Active: 2018 –
(Mnet)
Kim ChoYeon
Name: Kim ChoYeon
Agency: A Team
Birthdate: 2001
Blood Type: B
Height: 164 cm
Weight: 44kg
Training Period: 1 Year 6 Months
Hobbies: Repeat sentences from drama, caricature
Specialty: Portrait animal
Kim DaYeon
Name: Kim DaYeon
Agency: CNC Entertainment
Birthdate: 2003
Blood Type: A
Height: 158 cm
Weight: 41 kg
Training Period: 8 Months
Hobbies: Freestyle dance, with EunBin do modern dance
Specialty: HipHop Dance, Basketball, Crossed eyes
Kim YuBin
Name: Kim YuBin
Agency: CNC Entertainment
Birthdate: 2002
Blood Type: B
Height: 166 cm
Weight: 47 kg
Training Period: 1 Year
Hobbies: Cooking, mukbang (a live stream where you can see someone eating)
Specialty: Girls Hip Hop, House Dance
Yoon EunBin
Name: Yoon EunBin
Agency: CNC Entertainment
Birthdate: 2004
Blood Type: O
Height: 154 cm
Weight: 38.7 kg
Training Period: 11 Months
Hobbies: Enjoy listening to music, do sport
Specialty: Hip Hop Dance, Urban Dance
Lee YuJeong
Name: Lee YuJeong
Agency: CNC Entertainment
Birthdate: 2004
Blood Type: AB
Height: 160 cm
Weight: 41 kg
Training Period: 6 Months
Hobbies: Playing piano, K-Pop dance
Specialty: Musical
Hong YeJi
Name: Hong YeJi
Agency: CNC Entertainment
Birthdate: 2002
Blood Type: A
Height: 162 cm
Weight: 45 kg
Training Period: 11 Months
Hobbies: Knitting, writing diary, listen to ASMR
Specialty: Waacking Dance
Han ChoWon
Name: Han ChoWon
Agency: Cube Entertainment
Birthdate: 2002
Blood Type: O
Height: 168 cm
Weight: 50 kg
Training Period: 1 Year 10 Months
Hobbies: Playing piano, eating
Specialty: Waacking Dance, Composition
Park HaeYoon
Name: Park HaeYoon
Agency: FNC Entertainment
Birthdate: 1996
Blood Type: A
Height: 157 cm
Weight: 43 kg
Training Period: 3 Years 10 Months
Hobbies: Calligraphy, travel
Specialty: Japanese
Cho AhYeong
Name: Cho AhYeong
Agency: FNC Entertainment
Birthdate: 2001
Blood Type: B
Height: 157 cm
Weight: 44 kg
Training Period: 1 Year 7 Months
Hobbies: Meditation, while listening to music draw
Specialty: Rap, Dance, Composition, Lyric making, Rap making
Kim MinSeo
Name: Kim MinSeo
Agency: How Entertainment
Birthdate: 2002
Blood Type: AB
Height: 166 cm
Weight: 44 kg
Training Period: Seven Months
Hobbies: Watch mukbang (a live stream where you can see someone eating), take pictures, cook
Specialty: Acting
Wang Ke
Name: Wang Ke
Agency: How Entertainment
Birthdate: 2000
Blood Type: O
Height: 165 cm
Weight: 45 kg
Training Period: 8 Months
Hobbies: Watch Drama, cook
Specialty: Make sounds from her body
Yu MinYoung
Name: Yu MinYoung
Agency: How Entertainment
Birthdate: 2000
Blood Type: O
Height: 163 cm
Weight: 43 kg
Training Period: 6 Months
Hobbies: Watch and repeat after drama
Specialty: Sing, Rap
Won SeoYeon
Name: Won SeoYeon
Agency: MMO Entertainment
Birthdate: 2000
Blood Type: AB
Height: 167 cm
Weight: 50 kg
Training Period: 7 Months
Hobbies: Duplicate the song of her favorite singer
Specialty: Sing, Imitate the character Maengu
Park MinJi
Name: Park MinJi
Agency: MND 17
Birthdate: 1999
Blood Type: O
Height: 164 cm
Weight: 50 kg
Training Period: 2 Years 4 Months
Hobbies: While listening to music pile up chords
Specialty: Sing, Piano, English
Park ChanJu
Name: Park ChanJu
Agency: MND 17
Birthdate: 1999
Blood Type: B
Height: 163 cm
Weight: 50 kg
Training Period: 2 Years 1 Month
Hobbies: Watch drama and movies, computer game
Specialty: Dance
Lee ChaeJeong
Name: Lee ChaeJeong
Agency: MND 17
Birthdate: 1999
Blood Type: AB
Height: 164 cm
Weight: 48 kg
Training Period: 3 Years 6 Months
Hobbies: Collect lipsticks, learn choreography
Specialty: Dance, Create choreography, Imitate an ostrich
Lee HaEun
Name: Lee HaEun
Agency: MNH Entertainment
Birthdate: 2004
Blood Type: O
Height: 153 cm
Weight: 42 kg
Training Period: 2 Years 4 Months
Hobbies: Create dance, assemble nano-block
Specialty: Dance, Ocarina
Na GoEun
Name: Na GoEun
Agency: RBW Entertainment
Birthdate: 1999
Blood Type: B
Height: 160 cm
Weight: 44 kg
Training Period: 1 Year
Hobbies: Watch movie alone, watching cooking videos
Specialty: Mimic TaeYeon's song, Vocal mimicry (chicken, crying cat)
Park JiEun
Name: Park JiEun
Agency: RBW Entertainment
Birthdate: 1997
Blood Type: A
Height: 166 cm
Weight: 49 kg
Training Period: 4 Years 11 Months
Hobbies: Play with dogs
Specialty: Playing guitar
Lee SeungHyeon
Name: Lee SeungHyeon
Agency: WM Entertainment
Birthdate: 2001
Blood Type: B
Height: 171 cm
Weight: 55 kg
Training Period: 2 Years 5 Months
Hobbies: Enjoy movies and music
Specialty: Piano, Japanese
Lee ChaeYeon
Name: Lee ChaeYeon
Agency: WM Entertainment
Birthdate: 2000
Blood Type: A
Height: 164 cm
Weight: 47 kg
Training Period: 4 Years 1 Month
Hobbies: Watch drama, learn choreography
Specialty: Waacking, Girls' HipHop
Cho YeongIn
Name: Cho YeongIn
Agency: WM Entertainment
Birthdate: 2001
Blood Type: A
Height: 166 cm
Weight: 53 kg
Training Period: 10 Months
Hobbies: Sing in harmony, badminton
Specialty: Urban dance
Ahn YeWon
Name: Ahn YeWon
Agency: YGKplus
Birthdate: 2001
Blood Type: O
Height: 172 cm
Weight: 52 kg
Training Period: 4 Months
Hobbies: Walking with earphone in but without music
Specialty: Model walking
Choi YeinSoo
Name: Choi YeinSoo
Agency: YGKplus
Birthdate: 1999
Blood Type: O
Height: 170 cm
Weight: 49 kg
Training Period: 4 Months
Hobbies: Fangirling
Specialty: Flexible
Park SeoYoung
Name: Park SeoYoung
Agency: None
Birthdate: 1999
Blood Type: B
Height: 162 cm
Weight: 43 kg
Training Period: 8 Years
Hobbies: Drawing, reform clothes
Specialty: Rap, Dance
Park Jinny
Name: Park Jinny
Agency: None
Birthdate: 1998
Blood Type: B
Height: 164 cm
Weight: 46 kg
Training Period: 5 Years
Hobbies: Writing lyrics, makeup
Specialty: Making Rap
Yoon HaeSol
Name: Yoon HaeSol
Agency: The Music Works
Birthdate: 1997
Blood Type: AB
Height: 172 cm
Weight: 55 kg
Training Period: 3 Years 4 Months
Hobbies: Write, write diaries
Specialty: Sing, Mimic
Choi SoEun
Name: Choi SoEun
Agency: The Music Works
Birthdate: 2001
Blood Type: B
Height: 163.5 cm
Weight: 45 kg
Training Period: 10 Months
Hobbies: Rap, internet shopping
Specialty: Vocal mimicry
Son EunChae
Name: Son EunChae
Agency: Million Market
Birthdate: 1999
Blood Type: A
Height: 154 cm
Weight: 38 kg
Training Period: 6 Months
Hobbies: Walking, cooking, watching movies
Specialty: Waacking, Girls Hip Hop, Urban Dance
Cho SaRang
Name: Cho SaRang
Agency: Million Market
Birthdate: 2003
Blood Type: AB
Height: 155cm
Weight: 43kg
Training Period: 6 Months
Hobbies: Read Webtoon, write down thoughts
Specialty: Sing, Dance, Figure Skating, Drum, HaeGeum (Korean instrument)
Kim NaYoung
Name: Kim NaYoung
Agency: Banana Culture
Birthdate: 2002
Blood Type: O
Height: 155 cm
Weight: 43 kg
Training Period: 1 Year 7 Months
Hobbies: Repeat people attitude, way of speaking, or peculiarity
Specialty: Jump Rope, Cartwheel
Kim DaHye
Name: Kim DaHye
Agency: Banana Culture
Birthdate: 2002
Blood Type: O
Height: 166 cm
Weight: 47 kg
Training Period: 1 Year 1 Month
Hobbies: Search for strange dances
Specialty: Japanese, Sing Japanese children's songs
 Ko YuJin
Name: Ko YuJin
Agency: BlockBerryCreative
Birthdate: 2000
Blood Type: B
Height: 162 cm
Weight: 46 kg
Training Period: 2 Years 8 Months
Hobbies: Walking alone, watch movies
Specialty: Dance, Acting
An YuJin
Name: An YuJin
Agency: Starship Entertainment
Birthdate: 2003
Blood Type: A
Height: 168 cm
Weight: 48 kg
Training Period: 1 Year 4 Months
Hobbies: Shopping, going around GangNam
Specialty: Girls Hip Hop, Playing piano
Jang WonYoung
Name: Jang WonYoung
Agency: Starship Entertainment
Birthdate: 2004
Blood Type: O
Height: 168 cm
Weight: 47 kg
Training Period: 1 Year 2 Months
Hobbies: Play with unnies
Specialty: Girls Hip Hop
Cho KaHyeon
Name: Cho KaHyeon
Agency: Starship Entertainment
Birthdate: 2003
Blood Type: B
Height: 161.8 cm
Weight: 49.5 kg
Training Period: 1 Year 8 Months
Hobbies: Walking
Specialty: Urban Dance, Girls Hip hop
Bae EunYeong
Name: Bae EunYeong
Agency: Stone Music Entertainment
Birthdate: 1997
Blood Type: B
Height: 163 cm
Weight: 50 kg
Training Period: 9 Months
Hobbies: Puzzle, reading, walking
Specialty: Japanese (beginner)
Lee SiAn
Name: Lee SiAn
Agency: Stone Music Entertainment
Birthdate: 1999
Blood Type: A
Height: 170 cm
Weight: 53 kg
Training Period: 9 Months
Hobbies: Heart dance, eating, sport, swimming, running
Specialty: Sing, Dance, Rap, Piano, Heart Dance
Jang GyuRi
Name: Jang GyuRi
Agency: Stone Music Entertainment
Birthdate: 1997
Blood Type: B
Height: 168 cm
Weight: 51 kg
Training Period: 9 Months
Hobbies: Watching movies, listening to music
Specialty: Piano, Guitar, Drum, Violin
Jo YuRI
Name: Jo YuRI
Agency: Stone Music Entertainment
Birthdate: 2001
Blood Type: AB
Height: 160 cm
Weight: 45 kg
Training Period: 9 Months
Hobbies: Singing, guitar, drum, keyboard instrument
Specialty: Sing, Keyboard instrument, Drum
Kim MinJu
Name: Kim MinJu
Agency: Urban Works
Birthdate: 2001
Blood Type: AB
Height: 165 cm
Weight: 45 kg
Training Period: 2 Years 10 Months
Hobbies: Walking, taking pictures, theater of situations
Specialty: Facial mimicry (monkey, giraffe), Playing guitar
Kang HyeWon
Name: Kang HyeWon
Agency: 8D Creative
Birthdate: 1999
Blood Type: B
Height: 163 cm
Weight: 43 kg
Training Period: 9 Months
Hobbies: Piano, watch animation
Specialty: Piano, Guitar
Kim DoAh
Name: Kim DoAh
Agency: FENT Enternainment
Birthdate: 2003
Blood Type: O
Height: 163 cm
Weight: 42 kg
Training Period :1 Year 2 Months
Hobbies: Dance freestyle alone
Specialty: Vocal mimicry
Kwon EunBi
Name: Kwon EunBi
Agency: Woollim Entertainment
Birthdate: 1995
Blood Type: A
Height: 160 cm
Weight: 46 kg
Training Period: 5 Years 6 Months
Hobbies: Going to delicious places that sell desserts, shopping, running
Specialty: Dance, vocal mimicry, pop art
Kim SoHee
Name: Kim SoHee
Agency: Woollim Entertainment
Birthdate: 2003
Blood Type: A
Height: 159 cm
Weight: 46 kg
Training Period: 8 Months
Hobbies: Going to delicious places, monitoring her stage
Specialty: Dance, vocal mimicry (SpongeBob, Doraemon)
Kim SuYun
Name: Kim SuYun
Agency: Woollim Entertainment
Birthdate: 2001
Blood Type: A
Height: 170 cm
Weight: 52 kg
Training Period: 9 Months
Hobbies: Take pictures of the sky, watch mukbang (a live stream where you can see someone eating)
Specialty: Dance, Imitate a pigeon
Kim ChaeWon
Name: Kim ChaeWon
Agency: Woollim Entertainment
Birthdate: 2000
Blood Type: B
Height: 163 cm
Weight: 42 kg
Training Period: 11 Months
Hobbies: Watch movies, watching videos of dance, listen to ballads, watch mukbang (a live stream where you can see someone eating)
Specialty: Sing, Dance
Kang DaMin
Name: Kang DaMin
Agency: Wellmade yedang
Birthdate: 2004
Blood Type: AB
Height: 162.5 cm
Weight: 42 kg
Training Period: 11 Months
Hobbies: hide-and-seek
Specialty: Playing drum, a pterosaurs and ajaeng (Korean instrument) imitation
Hwang SoYeon
Name: Hwang SoYeon
Agency: Wellmade yedang
Birthdate: 2000
Blood Type: A
Height: 165 cm
Weight: 47 kg
Training Period: 1 Year
Hobbies: Following the music with her body, watching performances and write down her perceptions
Specialty: Dance
Kim SiHyeon
Name: Kim SiHyeon
Agency: YueHua Entertainment
Birthdate: 1999
Blood Type: B
Height: 168 cm
Weight: 51 kg
Training Period: 2 Years 2 Months
Hobbies: Cook, collecting pretty stuff, nail art
Specialty: Sing, Dance
Wang YiRen
Name: Wang YiRen
Agency: YueHua Entertainment
Birthdate: 2000
Blood Type: AB
Height: 163 cm
Weight: 42.3 kg
Training Period: 1 Year 4 Months
Hobbies: Shopping, cook
Specialty: Chinese traditional dance, vocal mimicry
Choi YeNa
Name: Choi YeNa
Agency: YueHua Entertainment
Birthdate: 1999
Blood Type: A
Height: 163 cm
Weight: 45 kg
Training Period: 3 Years 5 Month
Hobbies: Game, watch movies alone
Specialty: Skills related to her lips
Alex Christine
Name: Alex Christine
Agency: ZB Label
Birthdate: 1996
Blood Type: –
Height: 150 cm
Weight: 42 kg
Training Period: 2 Years 11 Months
Hobbies: Writing, photography
Specialty: Modern Dance, Ballet, Jazz Dance, Acrobatic
Kim HyunAh
Name: Kim HyunAh
Agency: Collazoo Company
Birthdate: 1995
Blood Type: A
Height: 171 cm
Weight: 56 kg
Training Period: 5 Years 6 Months
Hobbies: Watch entertainment, search for delicious restaurants
Specialty: Cover boys groups' dance
Shin SuHyun
Name: Shin SuHyun
Agency: Five Entertainment
Birthdate: 1996
Blood Type: B
Height: 163 cm
Weight: 45 kg
Training Period: 11 Months
Hobbies: Reading, watch Chinese drama
Specialty: Chinese
Lee GaEun
Name: Lee GaEun
Agency: Pledis Entertainment
Birthdate: 1994
Blood Type: AB
Height: 169 cm
Weight: 53 kg
Training Period: 6 Years 11 Months
Hobbies: Play with dogs, walk, watch movies, read books
Specialty: Sing, Dance, Japanese, Flute
Huh YunJin
Name: Huh YunJin
Agency: Pledis Entertainment
Birthdate: 2001
Blood Type: B
Height: 170 cm
Weight: 53 kg
Training Period: 6 Months
Hobbies: Eat, drawing
Specialty: Sing, English, Ukulele, Guitar
(Kpopmap has come up with a virtual voting system just for international fans! You can access the voting right here.)
Produce 48's Official Website, Produce 48's Facebook, Produce 48's  Twitter, Produce 48's Instagram
Read More : Produce 48 Japanese Trainee Members Profile: Mnet New Survival Show's Girls