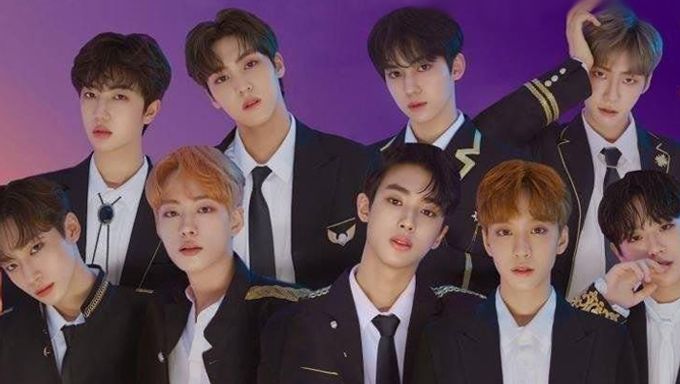 It is hard to believe that the 12 weeks with Mnet "Produce X 101" passed by so quickly and now we are having withdrawal symptoms from the program. We wonder what to watch every Friday, 11 pm KST now that the show has ended.
Many viewers and fans of X1 can look forward to their upcoming debut reported to take place on Aug. 27 at Gocheok Sky Dome. But what about the trainees who unfortunately did not make it into the debuting group?
Kpopmap has come out with an epilogue which we thought fans of the trainees who fought well might be interested in.
#1 Handwritten letters 
After the show has ended, several of the trainees had uploaded handwritten letters thanking their fans who have been supporting them all along. Some had uploaded through their companies' official social media whereas some had also shared them through their personal Instagram accounts.
TOP Media's Lee JinHyuk has shared his feelings through TOP Media official Twitter account.
[#이진혁] 안녕하세요. 티오피미디어 이진혁 입니다.#티오피미디어 #PRODUCEX101 #프로듀스X101 pic.twitter.com/jFwSXDTCcf

— TOP MEDIA Official (@TOPmedia_Kr) July 20, 2019
He mentioned that he had wanted to prove to the viewers that he loves the stage more than anyone else and shared that when the audience told him that he had proven himself, he had broken down into tears. Adding on, he also thanked those who have been supporting him all along and ask his fans to wait for him as he will return with as a new Lee JinHyuk.
Music Works' Song YuVin updated his Instagram with a picture as well as a sweetly written letter too.
https://www.instagram.com/p/B0LBrqLDvro/
He confessed that he needed a lot of courage when he had decided to participate in "Produce X 101". However, along the way, he had gained strength through the love and support from many people. Although the results are disappointing, he promised to work every harder and show an even more mature side of Song YuVin.
He also gave a special shout out to Choi SuHwan, Kim YoHan, Lee HanGyul, Han SeungWoo, Lee JinHyuk, Choi ByungChan, Cho SeungYoun, Lee SeJin, Park SunHo, Baek Jin as well as YuRi.
Of course, Woollim's Hwang YunSeong also uploaded a cutely written letter to his fans.
[Woollim Rookie_윤성]
늘 감사합니다!!🥰
앞으로의 윤성이를 기대해주세요🍀 pic.twitter.com/tmIekIuWt5

— woollim_rookie (@Woollim_rookie) July 20, 2019
Hwang YunSeong shared he had gained a lot of strength and support seeing his fans during the period of "Produce X 101". He also mentioned that now that he will be joining the rest of his Woollim friends, he showed regrets that he would not be able to see the 'national producers' as often. However, he also asked them to keep a lookout for him!
As for C9's Keum DongHyun, he shared a sweetly written letter through his company.
[#금동현]
💌
그 동안 금동현 연습생을 응원해주신 국민 프로듀서님들 진심으로 감사드립니다!

앞으로도 우리 금동이 많이 응원해주세요😊

감사합니다. pic.twitter.com/jfBMWRrd6a

— C9 Entertainment (@OfficialC9ent) July 20, 2019
Keum DongHyun admitted that he was not confident of himself when he had first appeared on the program but after seeing how much love and support he gets from his fans, he found himself standing on stage confidently. He promised that he will return soon and asked his fans to not forget about him.
iMe Korea's Lee SeJin shared his feelings with a neatly written heartful letter.
https://www.instagram.com/p/B0JMFSgnF14/
During the 1st elimination round, Lee SeJin shared that he will become a star that shines and gives comfort to those. He felt that throughout the journey, it had been a very meaningful process for him as well as his fans. He hopes that he will be returning soon so that he would get to repay his fans.
#2 Possibility of BYNINE debuting?
You may or may not already hear the news of fans supporting the debut of BYNINE. Before you wonder what is BYNINE, it is the group that consists of the 9 trainees who did not make it into X1.
BYNINE consists of Lee JinHyuk, Lee SeJin, Keum DongHyun, Hwang YunSeong, Song YuVin, Koo JungMo, Ham WonJin, Tony, and Kim MinKyu.
It was amazing to see how fans are supporting these trainees as they have come up with official logo, explanation of their concept, design of lightstick and so on.
Needless to say, many have also been emailing respective agencies, asking them to consider the debut of BYNINE. As of July 22, all except Woollim Entertainment has given a response regarding the project group.
A fan has compiled the updates below!
https://twitter.com/sincerelyhys/status/1153144375544729600?s=20
It seems that a number of the companies are interested and considering the possibility of BYNINE's debut. We hope that we will be able to hear good news in the near future!
#3 Possible future plan?
It might be too early to say anything but fans had spotted Starship Entertainment trainees some time ago during MONSTA X's concert "We Are Here" in Seoul.
You can take a look through the video below uploaded by a fan.
https://twitter.com/yunseongnetz/status/1151072755606904833?s=20
It seems like there is a high chance of Starship Entertainment debuting a new boy group that includes the trainees which had appeared on "Produce X 101".
Although nothing is confirmed, fans could not help but speculate.
What do you think is going to happen?
Read More : X1 Reportedly Confirms Debut Date, Showcase To Be Held At Gocheok Sky Dome