You might have already heard the news that many trainees from "Produce X 101" have been visiting ads put up by their fans in subway stations.
Some time ago, HONGYI's Tony was spotted visiting his subway ad at Samsung Station located in Seoul. Back then, he shared with fans that he will visit the ad one more time.
However, as days went by, no one had spotted Tony visiting his ad again. It was also revealed that the ad will only be displayed until July 16. With that being said, some fans assumed that he was unable to make it due to his tight schedule.
Just as they were having that thought, post-its were seen stuck onto his ad a while ago! Aside from that, fans also noticed that the post-its which were stuck previously were taken down.
Taking a closer look, it was a message from Tony!
The young trainee wrote in both Korean and English, sharing his gratefulness for all those fans out there supporting him.
Through the Korean message, Tony explained that he was unable to visit the ad again but had his manager to pass him the post-its attached onto it as well as deliver the message to his fans.
For the English message, he wrote "Really from the bottom of my heart. Thank you guys so much. I read every single one very carefully. Sometimes I even bring them (post-its) to the program and read them before sleeping haha! And thank you so so so much for all the people who even took more effort and wrote it in Chinese or English. I know that the ad ends tomorrow and I sensed that I wouldn't be able to see it so I wrote those letters. As well as all the dear KPDs (Korean Producers) who wait for me everyday in front of the shop. I know sometimes you don't even have time to sleep and still does everything in your power to help me. Thank you so much. Although this ad is down, I will definitely visit the other ads when I have time. Its currently 10:30 in the morning and we just finished. Hope I can present to you my hard work!".
Fans who have seen the message was touched by his kind actions and found him very sincere in expressing his feelings too.
Currently, Tony is ranked 19th as of Mnet's 11th week ranking.
Are you supporting Tony too?
Read More : Fans Notice How Much Weight "Produce X 101" Tony Has Lost In 3 Months Time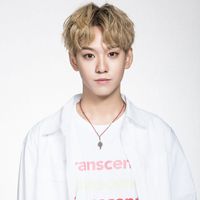 Became a fan of Yu JingTian
You can now view more their stories