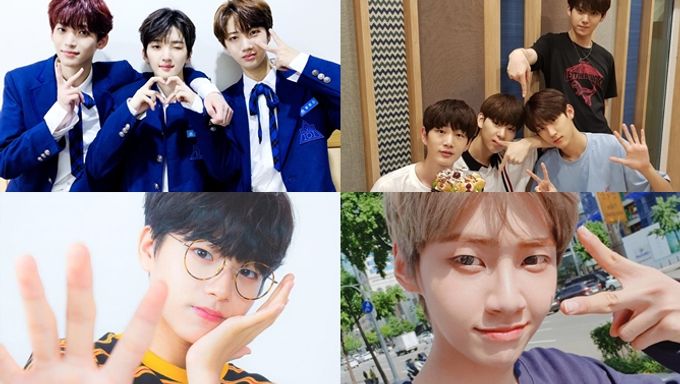 Can you believe it has already been a week since the final episode of Mnet "Produce x 101"?
Many fans are still having withdrawal symptoms from the show and are curious to learn more about those that did not make it into X1.
Kpopmap has compiled some of the updates that the trainees had given us about their upcoming schedules and activities. Do take note that this is not all of the updates.
#1 UP10TION's Lee JinHyuk
Lee JinHyuk has returned to TOP Media, changed his original stage name, opened an Instagram account and announced his upcoming solo fanmeeting date.
At first, many of his fans were disappointed by the results of "Produce X 101" but it seemed to be a blessing in disguise after all. It was announced earlier on July 26 that he will be appearing on MBC "Radio Star" as well as on JTBC new program called "혼족어플 (honjok eopeul)" where celebrities get to spend time alone.
TOP Media has also announced that Lee JinHyuk will not be joining UP10TION for their comeback in August and will be taking a short break before pursuing solo activities for the time being.
#2 Jellyfish's Kim MinKyu
Jellyfish's Kim MinKyu also appears to be doing pretty well after the show had ended. He had opened an Instagram account and if you wish to find out more about other trainees' Instagram accounts, you can take a look at the compiled list here.
On July 25, it was reported by Korean media, Newsen that Kim MinKyu has been receiving love calls from various companies to be the model for their products. The commercial offers range from casual clothing, beverages, snacks, fast food, and household appliances!
There is a very high chance that fans would get to see him 'debut' in commercials before his actual debut some time later in the future.
#3 Maroo's Lee JinWoo
Did you remember 'haenami' or also known as Lee JinWoo?
A few days ago, together with fellow Maroo Entertainment trainees, Lee WooJin and Lee TaeSeung, Lee JinWoo did an interview with several media outlets. He shared his disappointment about being eliminated from the program but promised to work even harder so that he can stand on stage with a great performance.
Although there is no specific details about his future plans, it seemed like Lee JinWoo will continue practicing as a trainee for the time being.
#4 Starship's JungMo, WonJin, and Moon HyunBin
On July 24, Starship Entertainment announced that they are currently preparing to debut a new boy group in the early half of 2020. Aside from Song HyeongJun and Kang MinHee who became members of X1, Koo JungMo, Ham WonJin and Moon HyunBin and perhaps new trainees from the agency will form the upcoming boy group.
With that being said, fans are highly speculating that the 3 trainees are currently preparing and working hard for the chance to debut under Starship Entertainment.
They are also scheduled to do a V-Live on July 31, 8 pm KST!
#5 V-Live Sessions with Brand New Music trainees and Woollim trainees & upcoming session with VICTON's ByungChan
"Produce X 101" fans are in luck as trainees from Brand New Music, Kim SiHun, Hong SeongJun and Yun JungHwan held a V-Live session to greet their fans!
If you have yet to check it out, you can do so below!
Aside from them, Woollim Entertainment trainees, Hwang YunSeong, Kim MinSeo, Joo ChangUk, and Kim DongYun also held a V-Live session!
Since it was also Joo ChangUk's birthday, 4 of them had fun celebrating his birthday as well as communicating with their fans.
Once again, you can check out the V-Live below.
With have one more upcoming V-Live session that is going to take place and it is none other than with VICTON's ByungChan!
After the news that he had dropped out from "Produce X 101" because of health issues, many fans miss seeing him on stage.
The scheduled V-Live will take place on July 26, 6 pm KST. You can watch it through the video above!
#6 Instagram live broadcast with iME Korea's Lee SeJin, Music Works' Kim KookHeon, and individual trainee, Kang SeokHwa
Aside from V-Live, other trainees such as Lee SeJin, Kim KookHeon, and Kang SeokHwa held live broadcast on their Instagram accounts.
During that time, they updated their fans about their whereabouts as well as answered some of the questions they received.
#7 Potential meeting with Fantagio Entertainment for individual trainee Lee Hyeop?
Do you remember individual trainee Lee Hyeop who was in 'Monday to Sunday' and wowed us with his 5 octaves?
It looks like things are going great for him as his vocal traineer had recently posted online that he had received the attention from a staff under Fantagio Entertainment. It is the house of ASTRO, Weki Meki, Ong SeongWu and so on!
In the text, it was said that the staff was trying hard to contact Lee Hyeop and hope that he or she will be able to have a meeting with Lee Hyeop.
Maybe we can hear good news about him soon!
UPDATE: It was revealed on July 29 that Lee Hyeop has entered Woollim Entertainment as a trainee officially. Congratulations to him!
안녕하세요. Woollim Rookie입니다.
프로듀스X101에서 좋은 모습을 보여준 이협군이 Woollim Rookie에 합류하게 되었습니다.
이협군의 새롭고 즐거운 소식😘은 Woollim Rookie에서 앞으로 보여드리겠습니다.
앞으로도 많은 응원 부탁드립니다.😆#woollim #울림 #이협 pic.twitter.com/J6H5vWTv7r

— woollim_rookie (@Woollim_rookie) July 29, 2019
Are you also following the other "Produce X 101" trainees closely?
Read More : Fans Share Hilarious Edited Pictures Of "Produce X 101" Trainee Kang MinHee