After having released their recent English collaboration single 'Waste It On Me', BTS and DJ producer Steve Aoki seem to be hitting it off really well. They first got together for a remix release of 'Mic Drop' a while back.
Steve Aoki talked about how he sees BTS as "the Bruce Lee of this generation" during a recent interview. He started off by stating that BTS's English isn't perfect but it was because of this reason why he found them appealing as he was looking for something that was raw and honest.
He stated
"I didn't want it perfect, I didn't want them to sing certain words the way Americans want it to be heard. I want them to sing it the way they really feel like it should be sung … I want to keep it as raw and as close to your heart and as close to what really goes from your mind, [to] your heart, to your voice. I'd just say its more about gratitude in a way. I'm grateful I was able to find this path. And there's paths like that for all kids out there that don't feel like they're connected to their community around them…I want to speak to my younger self, I want to speak to the young little Asian kid that didn't think that he had any talent or that he could actually do something that could have an impact."
So how does Bruce Lee fit in to the picture?
Well for starters, Bruce Lee made an impact on the world as an Asian actor, something which was quite difficult to do back in his days. In the same way, BTS have made an impact on the world as Asians in this generation.
"I grew up watching Bruce Lee [but] it was, like, after Bruce Lee did his thing, and I was a kid and he was already gone. There was never someone else who could fill that space, someone else that crossed all cultures, that all cultures love. I mean, there's Asian celebrities and Asian musicians and artists that Asians love, but not the whole world. So BTS, they are, to me, the Bruce Lee of our time."
Read More : IZ*ONE vs. CLC, Fans Talk About Song That Was Originally Intended For Latter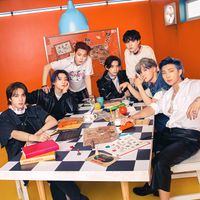 Became a fan of BTS
You can now view more their stories