Celebrate New Hallyu Couple, Darling? 
One of famous Korean media outlets Dispatch has released photos of what they allege is Park Shin Hye and Lee Jong Suk, on a date. The media source quoted from the words of Park Shin Hye and Lee Jong Suk's acquaintances, saying , "Having started off as close friends, the two recently developed feeling for each other and are in the beginning various of film sites."
The two hallyu stars has been wrapped around in a dating scandal since the filming of a drama "Pinocchio," when the two were spotted sporting matching 'couple' items like a braceletes. <So, Let's find a the sweet buddy's couple items and proofs doubted. 
1.  Couple Item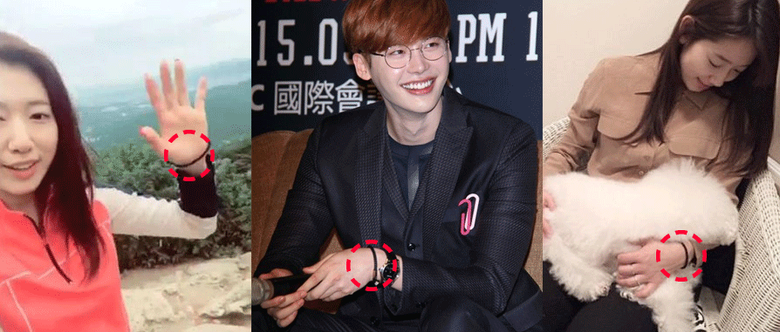 [ Bracelet ]
Q: When did PSH and LJS start dating? 
A: The two hot actors got close during their drama filming and they continued to meet with each other even after finishing up the drama. They've been following the couple around for 3 months they say, and found out that the two have been enjoying dates domestically as well as abroad!  
2. Off Stage 
Lee Jong Suk showed his genuine affection for his onair love, Park Shin Hye, during the off-camera of 'SDA'.  
3. Friendship like no other
When asked about his co-star, Lee Jong Suk said, "She is lovely. Really." And he is not shy about letting her know it. "When I filmed scenes with Park Shi Hye, I told her she was pretty," said Lee Jong Suk. "Then she said that it was just lip service. But I said she was pretty because she actually is pretty."

Q: In [Pinocchio] there was the bread kiss, painful kiss and more scenes, what is your most memorable and which would you recommend to audience as the most moving scene?
PSH: The first kiss scene. Whilst it was snowing, pressing my hands against my lips......that scene. At that time, they already realized each others hearts, the distance between the two became nearer. It left a deep impression on me. 
4. Private Car Date

Photo by. Dispatch
Q: When do they usually date?
A: They usually meet up right before midnight. When they were first caught by Dispatch, LJS drove up near PSH's home around late at night. They used this time to meet up.
Their friendship could be genuine but the 'world' live in fans had niggling doubts about their real relationship. Although their agencies utterly rejected the rumor as nothing even close to the truth, much speculation is rising due to important questions left unanswered.