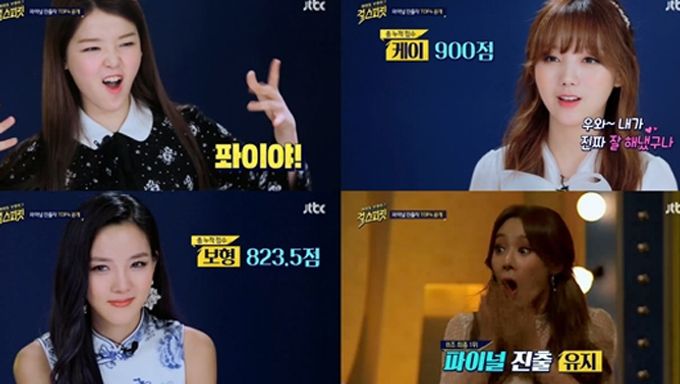 Girl Spirit's preliminary match is finally over. We've found so many talented idol singers through the show. With their amazing performances, they successfully catched audiences' heart. 
JTBC's "Girl Spirit" is a vocal competition where 12 underrated K-Pop idol girls sing their hearts out to prove that they've got the voice and the spirit! The show features 12 girl group idols who have yet to seen the spotlight. They may have been credited to have a great talent in vocal abilities, but that's just as far as their name has gotten. Through this program, the girls compete against each other each week through vocal challenges. An ultimate winner will be crowned at the season finale, and each week the girls are ranked upon their performances.1313
Must Read : JTBC's "Girl Spirit" Idol Singing Competition: Lineup
In conclusion, Lovelyz's Kei, Oh My Girl's SeungHee, Bestie's UJi and Spica's BoHyung were selected for finalists to the last episode of the show. But this isn't the whole story because the contestants in the final round has been increased from 4 to 5.  5th contestant from team B shall be a "Wild Card".
Despite conjectures about the hidden competitor, it's got the highest ratings ever at 1.12 percent of the total viewing audience at that time.
JTBC's "Girl Spirit" Ranking as of September 20th 
1st Place: BoHyung of SPICA - "Friend" (187 points)
2nd: UJi of Bestie  - "Road"  (172 points)
3rd:  SoYeon of LABOUM  - "A Moment Like This" (152 points)
4th: SoJung of Ladies Code -  "Bae Bae"  / HyeMi of Fiestar (149 points) - "Etude of Memories"; tied for 4th place
5th: JinSol of April - "Thank You" (145 points) 
WATCH: Video )) Idol Girls' Performances on The 10Ep of Girl Spirit
 The Finalists Are As Follows:
BoHyung of SPICA (Team B)
UJi of Bestie (Team B)
 Kei of Lovelyz (Team A)
SeungHee of Oh My Girl (Team A)
+
Wild Card 
Good luck girls! Fighting for final episode,, next week!