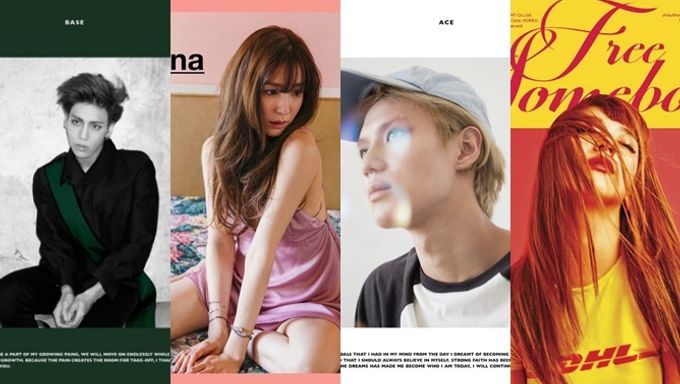 How high did your favorite SM solo artist rank against the others in album sales to date?
For the past couple of years, SM has been busy transforming group members into solo artists. Thank you, SM! We've been able to see different sides to our favorite K-Pop idols as they stood on stage by themselves, expressing their style and perspectives than conforming to a group. Some idols ventured into foreign waters in terms of genre, while some slayed in their hometown.
Must Read : Top 58 Highest First Week Album Sales of All Time
Either way, each solo artists were able to see tremendous success outside of their groups' comfort zones, and we couldn't be more proud. As they promoted on music shows, concert events, broadcast television, fan signings and so many other venues, their album sales rose along with it.
A chart of each albums sales and the relevance to the number of fan signings was created to see which SM solo artist found the best success flying solo. The chart took into account the number of albums that were sold so far, and how many fan signings that were held so far.
Take a look to see where your favorite SM soloist placed on the ranking chart.
Ranking of Highest SM Solo Artists Album Sales
** Please be aware that it is only album sales up to now (June 2016) **
14th - Luna 1st Mini Album "Free Somebody"
Sold: 8,755
Fan Signings: 2
... (Chart did not specify 11-13th) ...
10th - Henry 1st Mini Album "Trap"
Sold: 38,388
Fan Signings: 4
9th - YeSung 1st Mini Album "Here I Am"
Sold: 40,183
Fan Signings: 12
8th - KyuHyun 2nd Mini Album "If Autumn Comes Again"
Sold: 45,387
Fan Signings: 1
7th - JongHyun 1st Album "Story Op.1"
Sold: 45,415
Fan Signings: 12
6th - Tiffany 1st Mini Album "I Just Wanna Dance"
Sold: 56,930
Fan Signings: 9
5th - KyuHyun 1st Mini Album "At GwangHwaMun"
Sold: 71,169
Fan Signings: 3
4th - JongHyun 1st Mini Album "Base"
Sold: 72,161
Fan Signings: 13
3rd - TaeMin 1st Mini Album "Ace"
Sold: 92,213
Fan Signings: 6
2nd - TaeMin 1st Album "Press It"
Sold: 114,567
Fan Signings: 13
1st - TaeYeon 1st Mini Album "I"
Sold: 131,648
Fan Signings: 6