Which K-Pop groups hold the fandom power at the start of the new year 2017?
2017 sounds like it'll be full of fantastic comebacks and exciting debuts. You know what that means! Fandoms will be shifting around as fans jump ships or stake claim on their loyal idols. Let's begin the year with a summary of where each of the hottest idol groups are standing with their current fan cafe members!
Must Read : Ranking of Top 10 Boy and Girl K-Pop Groups by Fandom: December 2016
Spoiler: We have a new fandom King since our last fandom ranking back in December 2016!
TOP 10 K-Pop Girl Groups by Fandom as of January 2017
10th - f(x) (50,464)
9th - I.O.I (50,527)
8th - Lovelyz (51,122)
7th - Wonder Girls (64,086)
6th - GFriend (64,170)
5th - TWICE (67,661)
4th - Girl's Day (75,846)
3rd - MAMAMOO (93,968)
2nd - APink (158,167)
1st - Girls' Generation (193,965)
TOP 10 K-Pop Boy Groups by Fandom as of January 2017
10th - EXO (125,208)
9th - BTOB (139,877)
8th - VIXX (141,734)
7th - BLOCK B (143,303)
6th - B1A4 (157,980)
5th - INFINITE (206,026)
4th - BIGBANG (223,669)
3rd - BEAST (261,486)
2nd - TVXQ (338,466)
1st - BTS (419,360)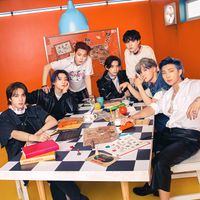 Became a fan of BTS
You can now view more their stories