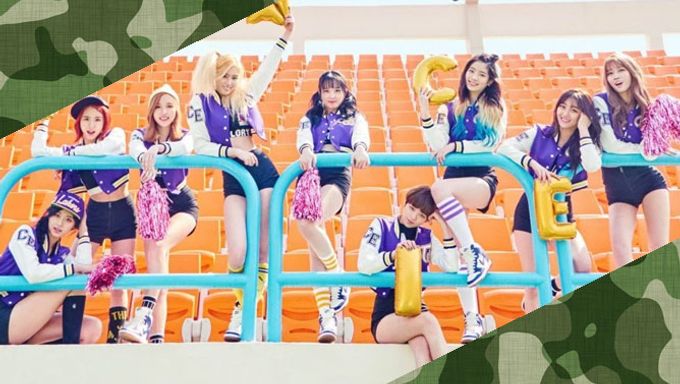 Which K-Pop girl groups are the most popular amongst the Korean Army officers today? The votes are in!
K-Pop girl groups are the ideal fantasies of army men; being a fanboy helps these active duty soldiers make their mandatory time go a little bit faster. Every year or so, a vote is taken within the Army bases to see which K-Pop girl groups are the most popular. These popular girl groups are termed, 군통령 (gun-tong-ryeong).
Must Read : 5 Massively Popular Female Idol Fancams On Mnet
A survey was taken of 566 army officers and asked which K-Pop girl group they want to invite to the concert events held just for soldiers. The votes were counted, and the top 10 girl groups were ranked. Find out which girl groups made the list!
9/10. SNSD & EXID
SNSD (Girls' Generation) and EXID take a tie for the 9th/10th place with 21 (3.7%) of the votes! SNSD has always been at the top tier of these votings, but it appears that they've lost some popularity for being older than the current army generations! However, SNSD has never missed a year of placing on the top 10 lists since their debut 9 years ago!
8. Girls' Day
Girls' Day has also never missed a year for placing on the popularity list since their debut! After featuring as the main lead in 'Reply 1988', HyeRi fans have increased tremendously, solidifying their popularity in place. They placed 8th this year with 24 (4.2%) of the votes.
7. GFriend
A new face to the popularity list, GFriend has snagged the 7th place after making a comeback recently with 'Rough'. The latest daesae and also the winner of last year's Rookie Award, GFriend's popularity within the army services has also increased dramatically! They place 7th with 25 votes (4.4%).
5/6. APink & Lovelyz
APink and Lovelyz tie at 5th place with 42 votes (7.4%) each! Both groups are well received and absolutely loved by the army for their lovely and innocent image.
4. MAMAMOO
A girl group that defies the current innocent trend, MAMAMOO placed 4th with 43 votes (7.6%). Their amusing and carefree image that is unlike all other girl groups has helped their popularity within the army soar! Even popular actor, Yoon SiYoon, has stated that MAMAMOO has helped him finish his army duties strong.
3. Red Velvet
The third place goes to Red Velvet with 54 votes (9.5%)! Red Velvet's popularity for their bright and lively image transferred just as well into the army crowd. We don't expect these adorable ladies' popularity to dwindle anytime soon!
2. TWICE
Make me feel like Ooh-Aah! It hasn't even been 100 days since their debut, but TWICE has made a name for themselves by placing 2nd with 90 votes (15.9%)! Of course, the fact that every member is considered a visual-member, because of each member's beauty, has helped these ladies come top tier so quickly! Tzuyu, who's been on her way to become the next Suzy, has also helped TWICE secure their top spot within the army officers.
1.  AOA
The winner is AOA with a total of a whopping 129 votes (22.8%)! Is it due to SeolHyun's status as the current hottest girl group member? AOA took the win by a significant amount of votes. Their sexy performances move the heart of the hard working soldiers. SeolHyun is also especially known to have placed 1st as the girl group member army officers want to date. The win comes to us as no surprise!
Congratulations to all the winners!
Did your favorite girl group make the list? Tell us what you think of the ranking below!