BTS's leader, Rap Monster, will not be performing on stage due to his health risk caused by stress.
BTS is scheduled to appear on stage for "K-Pop World Festival", but announced that Rap Monster will not be participating in the performance. Big Hit Entertainment took to their official SNS to announce the exact details about Rap Monster's health.
Must Read : Teaser )) BTS #WINGS Concept Photos (JungKook, RapMonster, Suga & JiMin)
In summary, the idol had visited a doctor on his way home after feeling ill. The doctors diagnosed that his health was suffering from all of the stress that he was piling on into his body, and ordered RM to take a break. In order to make the group's upcoming comeback in the best condition possible, Big Hit Entertainment has decided to put Rap Monster on a leave of absence until his health is restored.
The following was the official statement put out by the agency:
Hello, this is Big Hit Entertainment.

BTS is scheduled to perform at the "K-Pop World Festival" that is held today at ChangWon, but Rap Monster will not be participating on stage.

Yesterday on the 29th, Rap Monster visited an orthopedic's office after feeling pain while practicing for the group's upcoming new album. The doctors diagnosed that he could end up with 'stress fracture' on his leg if he continued to put too much pressure into his legs, so it was advised that he take a break.

Besides his knees, everything else seems to be in decent condition according to the X-rays, but Rap Monster will be receiving physical therapy to avoid farther damage. He was diagnosed during the early stages of 'stress fracture', so he will be taking the recommended break for the remaining time left before the comeback date. Rap Monster will concentrate on resting and restoring his condition back to full in order to make the comeback in good health.

Rap Monster will not be performing today, but he will be standing on stage as a co-host with the rest of the members. Only the remaining 6 members will be performing on stage for the "Busan One Asia Festival" on October 1st, as well.

We apologize for letting down the fans who have been looking forward to seeing the full group at the two events. We will do our best to meet the fans again with healthy conditions for the upcoming comeback of the group's new album.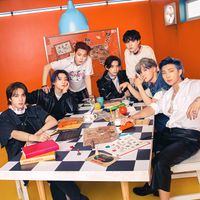 Became a fan of BTS
You can now view more their stories