Criticism has been raised, condemning the actions of San E, a famous Korean rapper, on KBS Friendship Super Show that was held on October 14th. There were mainly two scenes that have brought San E in the limelight of sexual harassment and both scenes involved Irene of Red Velvet.
The first scene that fans and audiences found distracting was when San E playfully put his arm on the shoulder of Irene, then, he teased the fans that Irene was waving to. Irene seemed stunned by his abrupt actions for a brief moment but and gave a small award laugh as he teased the fan.
Fans found his actions very distracting for he wasn't close with her nor had any intimacy with her. Though his actions can be taken lightly, fans are angry that his actions may give the impression to treat a woman as a tool to brag and not treat her as an individual person. The sense of ownership is implied in such actions which makes women uncomfortable and assaulted.  The matter of using a woman as a tool and showing sense of ownership are some of the serious actions and thought of sexual harassment that women want men to discard. 
The second scene that was controversial was when San E was singing 'Sour Grapes'. he came up to where the hosts were and stood next to Irene. Then while he sang, he faced her and pointed her with his fingers.
https://twitter.com/borasek__/status/919438440361484288
Now, pointing someone with one's fingers are taken as a rude action in Korean culture. In addition to that, the lyrics were more than straightforward about woman's sexiness that lure men. By singing the lyrics and appointing his fingers to her right that moment, she may have felt sexually harassed.
Again, fans are furious and want him to apologize for his light, thoughtless actions, intended or not. Some may say that interpreting his actions is a big exaggeration. However, it is true that celebs have to be careful o
n delivering messages and actions because they may give a strong impression to people whether right or wrong. Furthermore, gender issue is quite a serious matter these days, finding the right way to respect both sexes, so it's best to be careful not to hurt anyone's feelings.
Must Read : Fans And Drama Leave Onew of SHINee for His Sexual Assault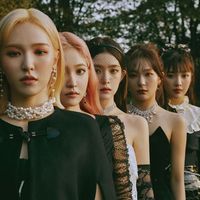 Became a fan of Red Velvet
You can now view more their stories