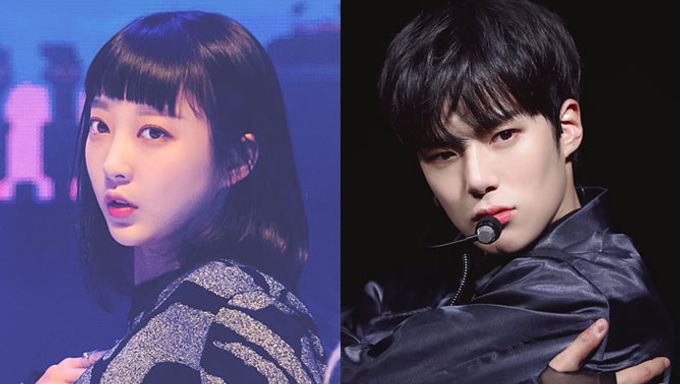 Long time fans of MONSTA X's MinHyuk and EXID's HyeLin may have already heard of the rumor that both of them were dating in the past. On April 10th during SBS "The Show" pre-recording, HyeLin had stepped up and clarified that she did not date MinHyuk before.
It happened after the pre-recording for MONSTA X had ended and HyeLin was seen asking if they were MONSTA X's fans. After checking their presence, she said that she did not date MinHyuk in the past. To the fans who were present at that spot, it may seemed like a sudden and abrupt confession but apparently the rumors and hate comments had been bothering her for a long time. Even her fellow member LE had agreed about it.
In regards with the comment she had made yesterday, fans were unhappy that she was giving them too much unnecessary information. They could not understand why HyeLin would want to stir up something which had already died down long ago.
So what could have led to the start of this rumor? It seemed that when MinHyuk was still a trainee under Starship Entertainment, he has been keeping close contact with HyeLin. The two of them were seen communicating with each other on HyeLin's Instagram.
MinHyuk had the Instagram id of 'hyuk_mh' and commented on HyeLin's Instagram that she is pretty. To that HyeLin asked why he was not sleeping yet. 4 weeks later, MinHyuk was seen commenting on the same post, asking HyeLin to contact him through KaKao Talk Messenger. On another occasion when MinHyuk said that he was feeling frustrated, HyeLin told him to talk to him through KaKao Talk Messenger again.
Additionally, since the fans found out that both of them are close with each other, they have been keeping a close watch on the actions between the two of them. One of the occasions was when EXID won first place on a music show in 2017 and they saw HyeLin high fived MinHyuk.
Even when official statements were released from their respective companies saying that they were no more than friends, HyeLin had been cursed by many especially when MONSTA X first debuted.
In regards to that, netizens who have been witnessing the war between the two fandoms commented that it is hard to be an idol especially when a dating rumor gets involved.
Read More : Reasons Why BTS Suga And Suran's Dating Rumors Were Spread