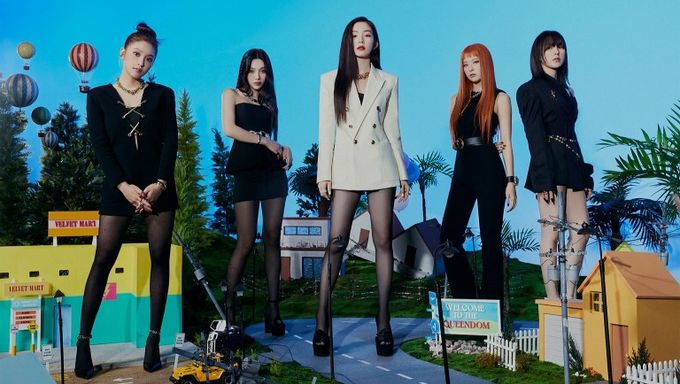 The biggest comeback of 2021 is finally here. Red Velvet has officially made their full group comeback with their 6th mini-album "Queendom". The mini-album was released on 16th August 2021 and has been dominating the music charts ever since. This includes the top Korean charts as well as the iTunes Top Album Charts of 50 international regions! Needless to say, the Queens are here to stay.
Concept
Red Velvet's concept for "Queendom" is quite evident. It radiates power, elegance, and extravagance. The overall message is the fact that everyone is a queen in their own lives and together with each other, they shine even brighter. Several concept photos were released to preface the album, each adding to the increasing anticipation for the same.
In the "Carnival" version of the concept photos, the members are seen in an open field and the background is set up just like a carnival or festival.
Next, we have the "Welcome to Queendom" concept photos which present the members in their own individual unique shots. There are also bust shots that make them appear precisely queen-like.
The "Homecoming!" concept photos show the members are peppy young girls from the 90s, most likely to be prom queens.
The concept photos are all bright and yet mysterious, a classic Red Velvet characteristic.
Fashion and Appearance
Red Velvet went above and beyond when it comes to their aesthetic and visuals for this comeback. The fashion was incredible and definitely fit the overall theme of the mini-album.
For the "Carnival" concept photos, SeulGi is wearing a white short-sleeved shirt under a corset bodice, paired with a sheer black skirt and black boots; Irene is wearing a powder blue cropped top, a black skirt and a lace half-blazer, all brought together by a stunning rhinestone choker; Joy looks gorgeous in her electric blue-purple sequin top over a black lace undershirt and blue netting over a black pair of shorts, coupled with a pearl choker, heavy earrings and even heavier hand accessories; Wendy is wearing an open shoulder high neck bluish lavender top with floral applique work and a rhinestoned black skirt with light jewellery but exquisite nails; YeRi continues the blue and black theme with a gradient blue top and a black mesh skirt, belts and hand jewellery.
On the other hand, the fashion in the "Homecoming!" photos is heavily inspired by retro, 70s style clothing.
Irene's dual coloured lenses were also a fashion highlight.
Music
"Queendom" is made up of 6 songs spanning 19 minutes and 37 seconds. The songs are 'Queendom', 'Pose', 'Knock On Wood', 'Better Be', 'Pushin' N Pullin'' and 'Hello, Sunset'. When it comes to genre, Red Velvet are sticking to their classic sound while also experimenting with new and original styles.
Dance
The title song 'Queendom' has a magical fantasy concept, in tandem with the idea of the Mystic Shop. With the different members as employees and operators of the magical shop, the choreography is equally as fantastic. It is rather simple and uncomplicated, which is never a bad thing. Rather, it makes it that much more addictive because almost everyone can easily follow along.
Which song from Queendom is your favourite?
※You can vote multiple times without sign in.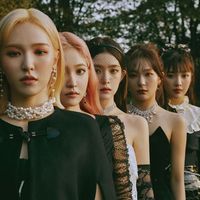 Became a fan of Red Velvet
You can now view more their stories