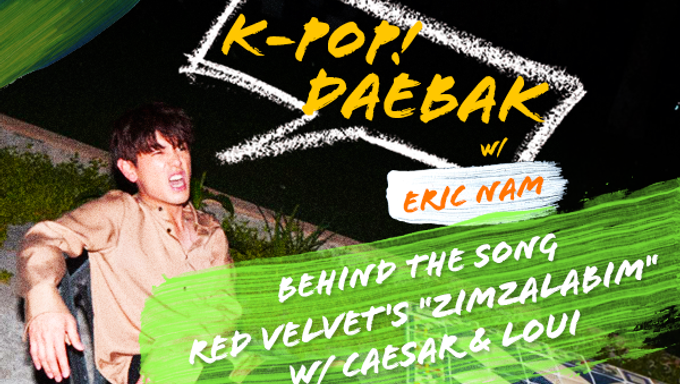 This episode of K-Pop Daebakshow takes a different turn compared to their previous format as they invite guests to the show!!
As announced from the previous episode, the famous Swedish producers behind Red Velvet 's latest release, "Zimzalabim" Caesar and Loui have come to the show to break down and talk about how the song came to its birth!
This will be a part one of the Behind the song series. Making it shorter in length, but there will be more in the future! Let's gitit!
Before we start, to some of the readers who don't know who Caesar & Loui are, they are the K-Pop game changers who have previously produced numerous hits, working with, SNSD(Girl's Generation), EXO, TWICE  and more.
After a brief intro, Producer, Caesar & Loui takes over the show by introducing themselves starting with their life-long friendship since they were 6.
They may have been a longtime friend but their musical background while growing was very different.
Caesar mentions that he grew up listening to a lot of rock music such as Green Day, whereas Loui was influenced by Jazz music and said he wanted to be a Jazz musician while growing up.
The two were involved in the same high school band and have part ways during college and later teamed up again to make music professionally.
When it comes to songwriting, they take parts 50:50. Loui mentions that since they've known each other for so long, they both know each other's strengths and weaknesses, which can be supported by one another.
The song, "Zimzalabim" according to the producers, apparently was influenced by SNSD's "I got a boy". This was one of the first K-Pop music they have produced which was later picked up by SM even before Red Velvet's debut. Keeping the "song" in the vault, the duo later produced "Red Flavor" which, in timeline means that "Zimzalabim" was made prior to "Red Flavor".
As the fans may know, the word "Zimzalabim" is equivalent to more famously known magic spell, "Abracadabra" however, according to Caesar and Loui, zimzalabim(actually pronounced simsalabim) is more commonly used in European region and that is why it was titled that way, providing many confusions to SM A&R team apparently.
The Swedish duo mentioned that Irene's take on Zimzalabim during the recording was so cool and said that she nailed it.
They also mentioned when they were first writing this song, it was the early days of working as a professional producer and the energy was extremely high, which was directly molten within the music itself.
Going over the chorus, they say it is very special compared to normal choruses. Instead of the energy going up like most of the choruses, they intentionally dropped it down since the energy from verse and bridge was so high.
Caesar & Loui comments on how K-Pop became such a strong brand and that it is a natural phenomenon to go global. Caesar also mentioned how even his grandfather talks about K-Pop music!
With that, "The Angry Monkeys" signs off by saying, they are proud of taking part in the K-Pop industry and said that they need to challenge themselves more.
To hear more, go check episode 14 of K-Pop Daebak w/ Eric Nam on your podcast providers or you can listen to them below!
Apple Podcast: K-pop Daebak w/ Eric Nam Behind The Song: Red Velvet's "Zimzalabim" w/ Caesar & Loui
Official Website: K-Pop Daebak w/ Eric Nam
Read More : K-Pop Daebak w/ Eric Nam: "Sounds of the Suburbs" Episode 13 CHUNGHA, (G)I-DLE and THE ROSE Recap