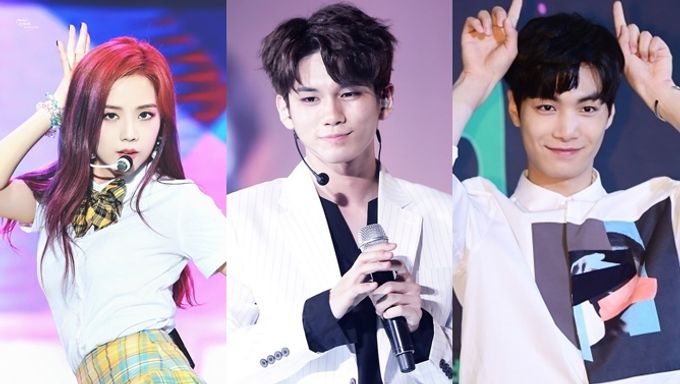 Some kind of magic must have been worked in 1995. Here's 20 K-Pop idols who were born in 1995.
Have you heard about 95 line? The most well known 95 liners are BTOB's Yook SungJae, VIXX's Hyuk, and Apink's Kim NamJoo. As you can see from them, 95 liners show off their amazing looks. Those born in 1995 aged 23 in Korean age in 2017. Recently, 95 line idols are arising as a top stars in K-Pop world. People can tell that idols born in 95 like BTS's JiMiN and V, TWICE's NaYeon, and AOA's SeolHyun are all big stars. Kpopmap researched 95 liners who has been popular recently.
Must Read : Reply 1995! 30 K-Pop Idols Born in 1995
Actually, we already have introduced 95 liners before. However, we added some newly debuted idols and rising stars here. Here are 20 of them, below. Let's check out!
1. BLACKPINK's JiSoo
2. TEEN TOP's Ricky
3. TEEN TOP's ChangJo
4. DIA's HeeHyun
4. PRISTIN's NaYoung
5. NU'EST's DongHo
6. NU'EST's MinHyun
7. NU'EST's MinKi
8. NU'EST's JongHyun
9. JBJ's Takada Kenta
10. JBJ's Kim SangKyun
11. MXM's Lim YoungMin
12. Wanna One's Ong SeongWu
13. Jang MoonBok
14. Produce 101 SE2's Kim TaeMin
15. Produce 101 SE2's Kim SangBin
16. N.Flying's Yoo HoeSeung
17. Produce 101 SE2's Park WooDam
18. Produce 101 SE2's Yoon YongBin
19. Produce 101 SE2's Jo YongGeun
20. Produce 101 SE2's Kim JaeHan