After a long discussion (and a whole lot of drama), "Running Man" has decided to end the show in February. All 6 original members will be with the team until the final episode.
The 6 original members - Yoo JaeSuk, Ji SeokJin, Haha, Lee KwangSoo, Song JiHyo and Kim JongKook - have decided to stay united until the end of the show. The members and the crew of SBS's "Running Man" gathered for a meeting in Seoul this afternoon to work out the details.
Must Read : Kang HoDong to Replace Song JiHyo & Kim JongKook on "Running Man"
During the emergency meeting, the members and staff all talked openly about the misunderstandings and miscommunication between the producers and the stars. The meeting also discussed the future fate of the show, and in the end, both sides decided to end "Running Man" at the end of February 2017. The judgement came from the mutual agreement that "it can not end in such an atmosphere".
Although Song JiHyo and Kim JongKook had been offended by the producers' lack of communication, the two have decided to stay on with the team until the final chapter of the show. The decision to continue even through the hurtfulness was that "When [they] think about the members and loyalty that they accumulated over the 7 years, [they] wanted to finish on a fantastic note to express their thankfulness to their fans."
The last episode of "Running Man" will air at the end of February 2017, and there are no talks of the second season reboot as of now.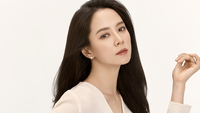 Became a fan of Song JiHyo
You can now view more their stories