According to Star News, G-Dragon is definitely not in good physical condition at the moment. The South Korea news agency has revealed that he has back problems, waist problems, ankle pain, and a dislocated shoulder. Basically, his entire body seems to be heavily suffering from all sorts of complications.
He received surgery on his ankle back in April and has been taking time off to recover.
The K-Pop idol has also recently been caught up in a controversy when South Korean media Dispatch revealed that he was receiving preferential treatment from the military hospital by being put inside a colonel's suite instead of an ordinary room to be hospitalized in. South Korea, being a collective society, had many netizens expressing discomfort about the whole situation. Meanwhile, YG Entertainment and the military hospital denied everything and stated that there were neither any preferential treatment nor a colonel's suite in the hospital. However, Dispatch later uploaded a photo of G-Dragon's room info which clearly had specific details saying 'colonel's suite' on a computer screen. Soldiers who are currently at the hospital have also confirmed that a colonel's suite does in fact actually exist.
If that wasn't a chaotic enough situation, it turned even more hectic when a soldier who is currently working at the hospital G-Dragon is staying in, wrote down everything he observed about G-Dragon, including very detailed physical attributes and characteristics of the K-Pop idol, and somehow leaked it online. Some netizens have said that this might possibly be YG Entertainment's way of attempting to cover up the controversy as the timing of G-Dragon's victimization seems a little too convenient.
Medical experts have stated that his solo activities along with BIGBANG's might have taken a bit of a toll on his health.
Read More : Someone Creepily Profiled G-Dragon And Leaked Private Information, Netizens Divided Even Further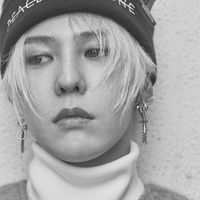 Became a fan of G-Dragon
You can now view more their stories