As Wanna One is recently getting much more popular, extreme sasaeng fans makes Wanna One dangerous again.
A series of photos including Lee DaeHwi and some other members of Wanna One was released in SNS. In the photos, there is Lee DaeHwi who is making a grimace of pain. What made him frown? Sasaeng fans appeared again. They pushed Lee DaeHwi so strong that he couldn't even move by himself, eventually, a manager of him hugged him to protect him from sasaeng fans. You can find lots of crowd grabbing cameras and cell phones around Lee DaeHwi hugged in his manager. 
Actually, Lee DaeHwi and Kang Daniel was going to have a shooting for TV program, "Happy Together". The fan who originally posted those photos wrote "Lee DaeHwi bumped against the fences. He looked so painful. And Kang Daniel and manager hugged him to take him to the car.", in succession, "Too many fans are blocking the way so Wanna One members there couldn't move. It was pretty serious." Even though YMC entertainment warned sasaeng fans via Wanna One's official Twitter before, there are still too much stalking fans who even threaten members' safety.
Must Read : List Of K-Pop Idols' Reaction Toward Sasaeng Fans: EXO, GOT7, Wanna One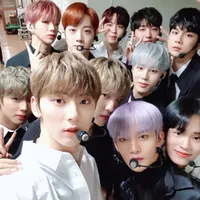 Became a fan of Wanna One
You can now view more their stories