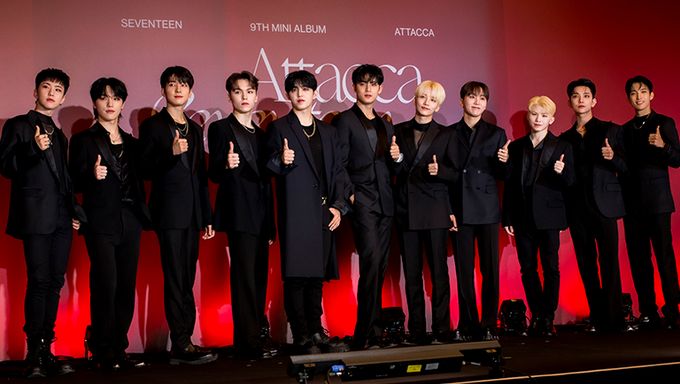 SEVENTEEN is back in around 4 months with their 9th mini album "Attacca" and title track 'Rock with you' released on Oct. 22, 1 PM KST. 
Since their latest comeback with 'Ready to Love' in June, all the members renewed their contracts with Pledis Entertainment in July. Talking about their records, the quadruple million-seller group entered Billboard 200 at number 15 for their first time since debut with "Your Choice".
Their first-week sales for "Your Choice" had broken their records with more than 1.3 million copies. But with this comeback, SEVENTEEN already sold more than 1.4 million albums in pre-orders in only one day, setting their new record. 
CARAT can be excited for this release because the members prepared a lot. "Attacca" is composed of 3 versions where members show their different colors. Have a look at a mix of their versions below. 
The title track 'Rock with you' is addictive and has an eye-catching choreography (as expected of SEVENTEEN!). Don't forget to watch the energetic music video below. 
Don't miss the highlight medley too.
Kpopmap was invited to the global press conference held on Oct. 22. S.Coups, JeongHan, Joshua, Hoshi, WonWoo, WooZi, DK, MinGyu, SeungKwan, Vernon, and Dino were attending.
Don't forget to check all of our HD exclusive pictures here. Also, don't miss checking Joshua's eyebrow piercing and Dino's lips piercing.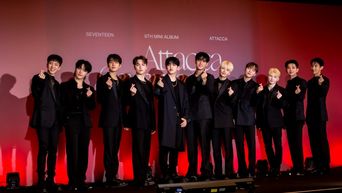 SEVENTEEN opened the press conference by talking about how they are happy to give CARAT such good music in such a short time (4 months). The sweet leader S.Coups made a special comment for overseas fans, saying that the group is preparing a lot of things for them. He asks them to enjoy the release and to wait a bit for them.
In 2021, SEVENTEEN worked on the 2021 project "Power of Love" talking about the different forms of love. It started with 'Bittersweet', then with "Your Choice" and now with "Attacca". With this new release, the group is showing the passion of love and deeper love. 
DK showed the 'simple' point choreography of 'Rock with you'. He started from lifting his two hands up to closing with a running pose. 
The two Chinese members -Jun and THE8- are absent from this promotion because they focus on their activities in China. Members were asked about how they felt about their absence.  
SeungKwan mentioned that since their debut, they have always been 13 all the time. So members feel empty and miss them, and that not only during their schedule but also in their daily life. He mentioned that the members contact each other a lot.
MinGyu added that they miss each other and they are contacting each other. In addition, they are supporting each other while doing their own schedule.
WonWoo explained that it is their first time to be without them, but that they feel as if they were with them. Jun and THE8 "prepared a lot of content before going so fans will not be able to feel their absence."
Members worked hard on the song production, and as usual, WooZi and other members participated in most of the album. 
In this album, there are 3 unit songs, 'PANG!' (Performance Team), 'Imperfect love' (Vocal Team) and 'I can't run away' (Hiphop Team). SeungKwan mentioned that fans would feel something new about these unit releases. 
All the international fans might have waited for this: the first-ever English release by SEVENTEEN! It is the digital release '2 MINUS 1' by Joshua and Vernon. They wanted to show their love to overseas fans with this release, and they said they hope that overseas fans like it.
Joshua talked a bit more about how he worked on the song with Vernon. He explained: "Vernon suggested to do Pop Punk, and when I listened to it, it remembered me from the 2000s and listening to Avril Lavigne. I thought that it should be nice to remind us of the past and put in the song."
When asked about the genre of the SEVENTEEN songs, Joshua answered: "Rather than focusing on the genre, I focus on the theme that can deliver the message the best, that is the most important".
Members talked about their goals for this promotion, and they mentioned that they want CARAT and members to be healthy and to have fun for this comeback. During these 4 months, they prepared a lot, and they hope that CARAT feel happy with this release.
SeungKwan added that they would like to be number 1 on the Billboard 200. All the members brought laughter at the press conference as they were pretending to hear that they were number 1. Members have unstoppable energy!
2021 was a busy year for SEVENTEEN and Hoshi closed the press conference with a funny line.
Referring to their 2021 project "Power of Love", he said that this was the year of loving CARAT, making a joke in Korean with 사랑해 (sa-rang-hae = love) which is a play on words because 해 (hae=year). 
SEVENTEEN is back with an album filled with the members' love for fans and their numerous messages. 
CARAT don't forget to tune in to the SEVENTEEN comeback show on YouTube on Oct. 23, 9 PM KST. The group will also perform 'Rock with You' on the U.S. program "MTV Fresh Out Live".
What is your favorite song in "Attacca"?
※You can vote multiple times without sign in.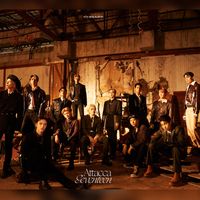 Became a fan of SEVENTEEN
You can now view more their stories