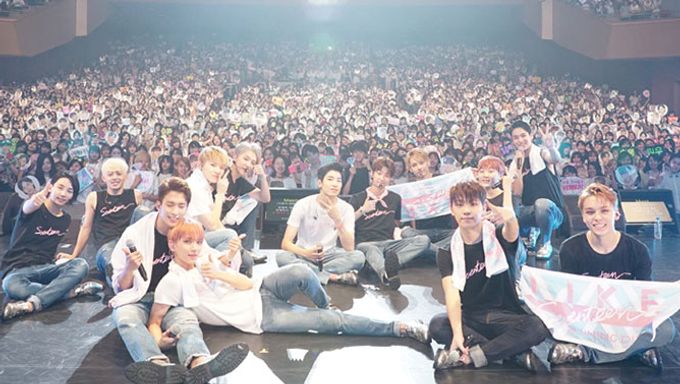 SEVENTEEN successfully held a 5 day concert and fan signing tour for their Japanese fans.
Another K-Pop idol group has captured the hearts of the fanatics in Japan! SEVENTEEN just finished their tour in Japan, holding solo concerts and fan signings throughout Tokyo and Osaka. The tour to nab the hearts of the Japanese started from the 5th and continued on to the 9th.
Must Read : Photo )) Seventeen on 2016 'LIKE SEVENTEEN – Shining Diamond CONCERT'
Over 13,000 fans came to see the boys on their "LIKE SEVENTEEN - 'Shining Diamond' in Japan CONCERT" tour. With around 2,000 fans per each Tokyo night and about 3,000 for their Osaka concert, the turnout was tremendously successful for these hot young stars.
Through SEVENTEEN's signature style, skill and humor the boys successfully wow-ed their Japanese fans, leaving behind a lasting impression. With heart touching performances to ridiculously humorous gags, SEVENTEEN nailed the concerts with perfect live performances and witty stage performances.
The concerts were held for over 2 hours with 24 songs. The boys executed each stage with heart and soul, farther solidifying their status as one of the hottest rising stars in K-Pop. Even before their official Japanese debut, SEVENTEEN was able to bring in such high ticketing numbers. The numbers after their official Japanese debut seems unimaginable!
The SEVENTEEN boys got deep and personal with their Japanese CARATs by also holding fan signings. With over 24,000 fans applying for a ticket to see the boys up close, the lucky few who were chosen got to experience an opportunity of a lifetime.
For those who live outside of Korea and Japan, we've got good news! SEVENTEEN is in the works of preparing for their 1st Asian tour, titled "2016 SEVENTEEN 1st Asia Tour: SHINING DIAMONDS". The boys will come visit CARATs from various Asian countries with Japan included.
Became a fan of SEVENTEEN
You can now view more their stories