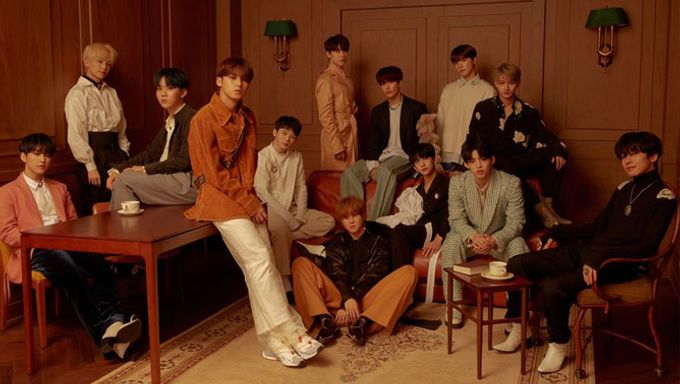 SEVENTEEN fans' demands are once again trending on Twitter with the hashtag: #플레디스_멤버수납_그만 [Pledis stop keeping them behind the spotlight] asking Pledis Entertainment to give WonWoo, The8 and Jun equal lines and equal position in the choreography as the other members. SEVENTEEN have 13 members and fans felt that these 3 members were put aside by Pledis.
There are other hashtags related to this issue such as #플레디스_파트동선_피드백 [Pledis give us feedback on member's distributed parts], #플레디스_안무동선_수정해 [Pledis correct the dance line]. #플레디스_기싸움_그만 [Pledis stop this power struggle], #플레디스_일본투어_취소해 [Pledis cancel the Japan Tour], etc.
The main hashtag has been trending in Korea and worldwide.
Find out CARAT arguments below.
First, fans are angry and ask for feedback of Pledis for the few lines, WonWoo, The8 and Jun have in the new songs 'Home' (title track) and 'Good to Me'.
In 'Home', the member with the longer part has 3 times more the time than the member with the shorter part and in 'Good to Me' it is 10 times more. Fans ask Pledis for equal part distribution among the members.
But that is not all, second, they provided more proof for their argument. Fans say that the members are always at the back of the choreography. They are therefore always at the back of the stage and fans cannot see them on stage as they are behind other members. Fans ask Pledis to re-do the choreography of the title track 'Home'. Fans state that there is enough time for the changes.
Fans uploaded screenshots of focus camera of these members with emphasis on WonWoo. Usually, on a focus camera, the member should be well seen. However, on the screenshot provided he can be barely seen.
Here also is the position of WonWoo in the choreography in purple for 'Home' and in red for 'Good to Me'.
Fans also mention that this problem was seen also in previous activities and that it cannot continue like this.
However, some CARAT believe that this is not true and felt that some fans are overreacting.
Read this please 🙂 #플레디스_멤버수납_그만 pic.twitter.com/H0LYpYkSWq

— pratiwi (@puinpra) January 28, 2019
kcarats stop fighting, wonwoo sang in this cb and he actually had good parts. stop complaining, your akgae sides are showing. let other members shine in this cb too

— 𝗿𝗼𝘀𝗲✨星尘𝘴𝘵𝘢𝘳𝘥𝘶𝘴𝘵 (@dindinowo) January 22, 2019
What do you think about it?
Read More : SEVENTEEN Fans Are Boycotting Pledis Entertainment For Many Reasons