SF9 cameback with their fifth mini-album "Sensuous" on July 31, 2018 at 6PM KST. Their title track is 'Now or Never' and the MV was released!
SF9 5th Mini Album 『Sensuous』 UNLIMITED SPOILER WEEK#EXPLODED_EMOTION_VER

▶ Teaser Site : https://t.co/UEvHO5k9HV
▶ Album Release : 2018.07.31 6PM#SF9 #에스에프나인 #5thMiniAlbum #질렀어 #Unlimited_Spoiler #SF9질렀어 pic.twitter.com/4xGoJUzMgf

— FNC Ent. (@FNC_ENT) July 30, 2018
The concept is very much sensual and charismatic.
In the MV, members are dressed with sexy outfits and showing a bit of skin. The colors of the MV are mainly red, blue and black with some green. The MV is also quite dark in terms of lighting and members' faces are often lighted with colored lights.
There are six main sets: a red room with a carpet and diverse objects from a tea set to a jar, a blue set for the choreography shot, a natural place with 'natural' lighting and plants, a set full of fancy chairs, a set composed of one or several doors and the last set is a see-through dice where members are standing individually.
For the choreography scenes, there are two main scenes, one with black outfits and one with white outfits. The members have a powerful dance.
The cinematography is great. The MV is themed on games and especially dices, as the spoilers also hinted the fans. The video shows dices of several colors in different settings.
The best scenes might be these as they show the members' unity and charisma, and in a certain extent differentiate them from other groups.
The members' acting is great. Charisma and sensuality are overflowing. The MV is a must-see!
You can check the entire MV here.
Do you like their MV? What is your favorite scene?
Read More : SF9 Kickstarts Keone-Choreographed "Now or Never" Comeback With Successful Showcase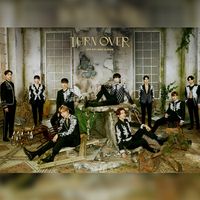 Became a fan of SF9
You can now view more their stories