SF9's YoungBin shared a story of him seeing a cockroach in the dorms during his "Bin, us" V-Live broadcast.
For those of you who do not know, YoungBin holds his weekly V-Live broadcast called "Bin, us" ("빈, us") every Monday. The goal of the broadcast is to listen to fans' worries and stress and to heal them with solutions and empathy and by laying soft burns if needed.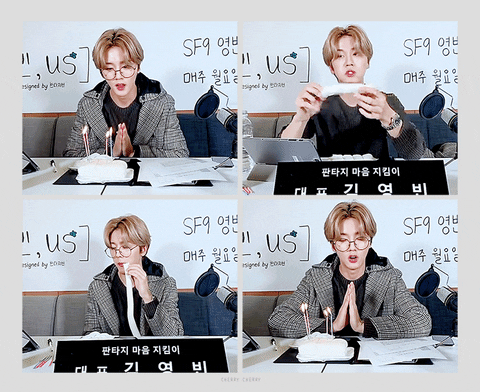 This Monday (Nov. 11), YoungBin's received a story from a FANTASY bothered by cockroaches. At that occasion, YoungBin shared the story that happened to him in the dorm when he saw a cockroach. if you have already seen a cockroach in your house before, you would relate. Here is his story:
"I will tell you the story when I saw a cockroach. It was early morning, I wake up and sat on the sofa just doing nothing. I was staying still because it was cold. I am not lying, a cockroach of this big [showing the size with his fingers] with many legs was super quick. It crossed by and went under the sofa.
I was just sitting like this and I was waiting for it to go out. But the cockroach could just appear on the opposite of the sofa or from the back of it. So I sat like that thinking about what I should do. If I saw it, I would have caught it but it was not there.
I started to feel sleepy. I thought "what should I do?". The fact that there is a cockroach means that there are a lot of eggs in the surroundings too. This would not have ended with just this cockroach. I had a headache.
After 10 min of looking, because I was sleepy, I went to my room and closed the door. I don't know what happened to it afterward. The members do not know about it."
Finally, he shared how members were reacting to insects. According to him, they will all scream and -of course- especially RoWoon. It is well-know that RoWoon is scared of insects. Youngbin concluded by saying: "I think I was always the one to catch the cockroach. I am not scared of it but that one was very big so I was scared."
It seems like members can count on leader Youngbin to get rid of the insects!
You can watch the show with English subtitles below. The story about the insect is at around 1:02:00.
Were you surprised? Were you expecting another member? Do you find the story relatable too?
Read More : SF9's YoungBin Supports A Fan Being Looked Down By Her Friend With An Original Soft Burn