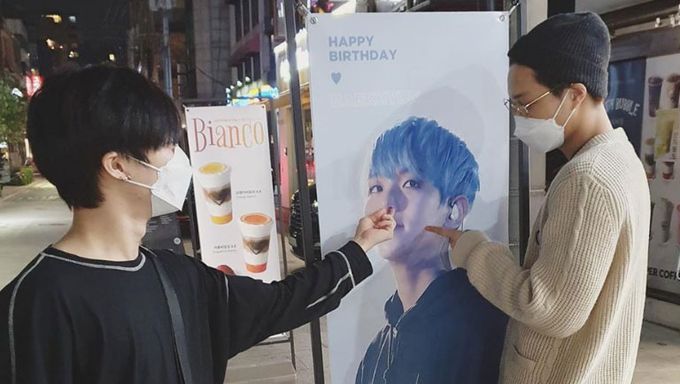 EXO's BaekHyun birthday is on May 6 (today) and many are celebrating his birthday!
#HappyBAEKHYUNDay 🎂🎉
⠀⠀⠀⠀⠀⠀⠀⠀⠀⠀⠀⠀⠀⠀⠀⠀
#200506 #BAEKHYUN #백현 #EXO #weareoneEXO @B_hundred_Hyun pic.twitter.com/GFJxsAGnh3

— EXO (@weareoneEXO) May 6, 2020
Among those wishing him a happy birthday, fans noticed this picture posted by fellow member Kai on his Instagram (@zkdlin) with SHINee's TaeMin.
Kai and TaeMin took a funny picture with a banner from a coffee shop celebrating BaekHyun's birthday. TaeMin was teasingly touching BaekHyun's face while Kai was poking his cheeks.
The three idols are under SM and are also part of the group SuperM where BaekHyun is the leader.
Fans and netizens commented: "Hahahaha", "We are one", "Happy birthday BaekHyun", "Too cute", "When you see your best friend in the streets", "Happy BaekHyun day", "Why are you so cute?", "Love you", and more.
Many liked this picture proving that SM idols are close to each other and love to tease each other.
Happy Birthday, BaekHyun!
Do you like the picture too?
Read More : Fans Notice How SM Entertainment Seems To Really Like This Venue