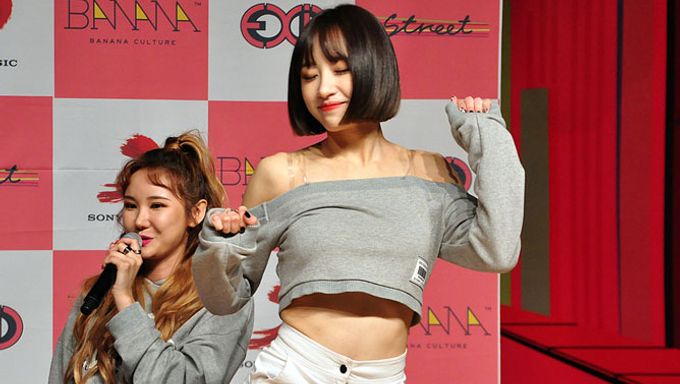 The EXID members got up close and personal through deep interviews during their comeback showcase for their first album,"Street"!
Kpopmap got to meet face to face with EXID at their showcase on June 1st at the IlChi Art Hall in Seoul. We had also brought the girls up close for our Kpopmap readers through a live feed of their showcase at real time! Our readers were able to share the experience of the showcase through Kpopmap's Facebook and Twitter pages.
Must Read : MV )) EXID – L.I.E
For those who had tuned in should know, the girls held a time during their showcase for an in depth interview relating to their comeback and the personal aspects of each member. The questions covered from the specific concept themes of their new comeback to a look into each member's private thoughts.
Check out the translations of each Q&A from the EXID members, brought to you by Kpopmap!
Showcase Interview with EXID
This is a translation by Kpopmap. To watch the whole showcase, visit our Twitter page!
Q. Are you guys nervous about your new comeback for your first full length album?
SolJi: It's our first full length album since our debut 4 years ago. I heard it's difficult to release a full length album as an idol, but we were blessed enough to be able to record one. As much as we prepared for it, we're very nervous and excited for the fans' response when it's officially released at 12:00pm today.
Q. Your L.I.E MV was very interesting, can you tell us more about your roles?
LE: Much like the movie, "Inside Out", we each play a certain emotion.
Hani: I play the suspicious Hani.
JungHwa: I'm the sad JungHwa!
HyeRin: I'm the hateful HyeRin.
SolJi: I play the irritated SolJi.
LE: And I am the rageful LE.
Q. Solji explained to us how she felt about the comeback, will the other members share their experience?
JungHwa: As much as it's our first ever full length album, we put so much work into perfecting it. Each of the 13 songs were carefully chosen and perfected, so they're both very precious and very good. We hope that you love it as much as we do.
HyeRin: We made a comeback since 7 months ago, which can feel very long. Just  as much as we've been doing our separate activities, I'm so excited to be promoting as a group again. And because this is our first full album, LE unnie had put in so much work and dedication. I wanted to take a moment in this setting to especially thank her for all the work that she does for us. Also, our title track is a bit different than the regular EXID styles that we've done, so we hope that you'll give us lots of support and love.
Q. LE, I bet you felt so much burden as the album's producer.
LE: Not really. The members followed along so well, and because they're so talent, I'm always so thankful. Since it took 4 years for our first full album, we want to make sure that it's the best that we can provide for our fans. We'll work hard in our promotions, and we hope our fans will love the outcome.
Q. Hani, you must have been so busy with other schedules, was it hard balancing both broadcast schedules and comeback preparations?
Hani: There's something that we have always said since our "Up and Down" promotions, "It's ok as long as we had fun." So we've made preparations with that kind of mentality. We hope the fans will be able to have fun with us as well.
Q. Can you introduce us to your new album?
LE: The album title is "Street", and like the title, each song was made with the different feelings that we notice on the street. We made our own interpretations and jam packed the album with new styles of EXID. There are solo tracks and unit tracks, and we just couldn't decide what our fans would like best. So we put a variety of styles into our album.
Q. You guys held a showcase for "Up and Down" at the same location as now.
JungHwa: When we came back in 2014, we made a comeback with the mindset that this could be our last mini album. Fans, family members, and the press were here for the showcase. We had no idea that 'Up and Down' would be such a hit at the time. We wonder if this location has some kind of luck, so we decided to showcase our album here. We hope that our "Street" album will be able to gain as much love as our 'Up and Down' track had.
HyeRin: Since our 'Up and Down' track had helped us have hope again when we were at our most lowest point, we wanted to showcase our album here. We want to promote our new album with the same mindset as we've promoted 'Up and Down'. We want to promote with a humble mind and a passionate workforce.
LE: We're very nervous and excited for our comeback. Even while coming here, we were full of worry. Even now, I'm not sure what to say.
Q. What has changed since your last showcase here to now?
HyeRin: One aspect that has changed is that we hear a lot of our songs on the streets. Another is that more people recognize us now. Before I would be so thankful and surprised if someone recognized our faces. But now, it's become more like "Yes, yes. Thank you. Yes, we're EXID."
LE: I guess one of the changes would be that more of the press reporters came to see our showcase. Since so many reporters came out today, we want to be able to promote and show all the hard work that we could do.
Q. Can you introduce us to the unit group's song, 'Yam Yam Chup Chup'?
HyeRin: The track is about the current generation who raise pets. Just as their love for pets, we portray the idea of "Eat well", "Don't lie that you already ate". It's with the mindset of taking care of someone. 
JungHwa: Our ShinSaDong Tiger oppa said that the song was made in his most confident genre. It has a lot of beeps and sounds, and it's very fun to listen to.
Q. What are some goals that you've set for this album?
HyeRin: There are so many good songs among our 13 songs. I'm hoping that at least one song will be able to receive much love as the title track from this album's promotions.
JungHwa: My parents always told me to dream big. It's just a dream, but I hope that about half of our album will be able to list on the top charts.
LE: Because this is our first full album, we wanted to show our fans so much. I hope that our fans will love our album.
SolJi: There's a track on our album that was made just for our fans. The track, "Summer, Fall, Winter, Spring", was made for our fans, so we hope they listen to it a lot.
Q. Although 'L.I.E' is different that your previous songs, what were some aspects of EXID's style that you didn't want to lose?
JungHwa: One strength that sets EXID apart, in my opinion, is that we have our producer LE as our member. LE unnie knows just how to bring out and accentuate the EXID feel and style, along with our color in music. So, that aspect was important to us.
LE: 'L.I.E' was made before our 'Hot Pink' track, but because 'L.I.E' is so different, we chose to promote 'Hot Pink' first. 'L.I.E' was our secret hidden song that showcases a different style of our music color.
Q. Do you have any 1st place promises planned?
HyeRin: We are thinking about performing 'L.I.E' at double speed.
Q. Did you feel any worries while challenging a different style of music?
LE: We also thought that 'Hot Pink' would feel at least a little bit different than our previous songs, but many people responded that it sounded the same. We chose to send out 'Hot Pink' first so that it could be the bridge between 'Up and Down' and 'L.I.E'.
Hani: We felt that it was time to show a different style.
HyeRin: I was most worried about the responses we would get from our fans for our individual parts of our performances. We dance individually with back dancers behind us, and that can't help but put the spotlight solely on us. I just hope the fans will enjoy it.
JungHwa: I would be happy just to hear that EXID can try different genres and different styles.
Q. Last goodbye comments.
HyeRin: I had such a good time, especially because of all the reporters who came out today. Thank you.
JungHwa: We always wondering if we would be able to record a full album, but now we were able to achieve that goal. We hope you love the album, and thank you for coming out today.
Hani: I wasn't able to sleep last night. I was so nervous about meeting the reporters here today, but I felt so much support and cheer. Although we are still lacking, I hope that you will look at us fondly.
LE: Since it took us 4 years to make, I want to have a good promotion for our album. All the songs are worth listening to, so we hope all the non-title songs get a lot of love too.
SolJi: We sincerely apologize for being late to our showcase and wasting our reporters' precious time. We hope that everyone will love our new album. Please help and support us to have a great promotion. We will work hard. We would be sincerely grateful if you could continually come out to see us for our future albums as well. 
Make sure to check out EXID's new mini album "Street" & the whole showcase video on Kpopmap's Twitter page!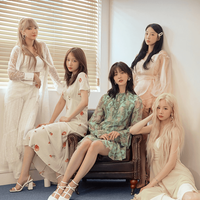 Became a fan of EXID
You can now view more their stories