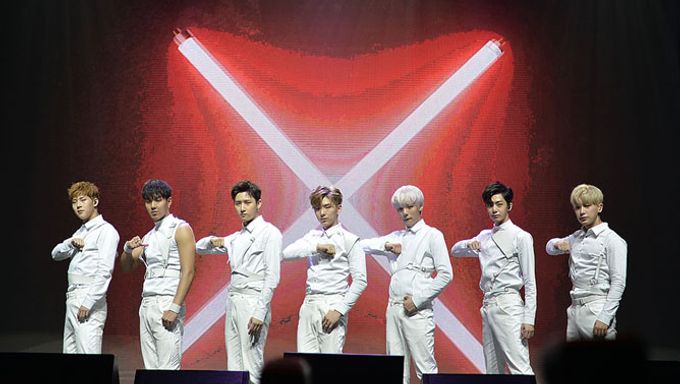 MONSTA X members got up close and personal through deep interviews during their comeback showcase for "The Clan Part.1 LOST"!
Kpopmap got to meet face to face with MONSTA X at their showcase on May 18th at the Yes24 Live Hall stadium in Seoul. We had also brought the boys up close for our Kpopmap readers through a live feed of their showcase at real time! Our readers were able to share the experience of the showcase through Kpopmap's Facebook and Twitter pages.
Must Read : 8 Things Only Found at MONSTA X Showcase
For those who had tuned in should know, the boys held a time during their showcase for an in depth interview relating to their comeback and the personal aspects of each member. The questions covered from the specific concept themes of their new comeback to a look into each member's private thoughts.
Check out the translations of each Q&A from the MONSTA X members, brought to you by Kpopmap!
Showcase Interview with MONSTA X
This is a translation by Kpopmap. To watch the whole showcase, visit our Facebook page!
Q. Please introduce your new title track.
JooHeon: Our title track, "All In", means that we'll put everything on the line for you. We wanted to express a kind of desperate love. The beat is strong and fast, but the lyrics are very sweet. 
Q. What are some point dance moves for the title track?
Shownu: There are three point dances: All In, Heartattack, and Backside. We made the names ourselves.
KiHyun: The Heartattack dance comes during my part. You hit your chest like a man with your right hand.
MinHyuk: If you look at the back of our outfits, there's a rip in the shirts. This was made for the Backside dance. 
Q. MinHyuk was unable to participate in the previous promotions due to his injury. How did you feel back then?
MinHyuk: I was saddened that I wasn't able to promote with my members. But I always cheered them on through monitoring and cheering from below the stage. I was glad that the members still carried on with so much energy for me, and all I wanted to do was get back on stage with them.
Q. The current trend in K-Pop groups is putting out albums in a series. How do you guys plan to carry the series through?
KiHyun: We want to show our fans the signature MONSTA X colors through each promotion. That way, at the end of each promotion, people will be able to realize what kind of color we have.
Q. MONSTA X will be promoting along side as other rookie boy groups, such as SEVENTEEN and iKON. How do you compare MONSTA X against the other groups?
WonHo: In terms of SEVENTEEN and iKON, we don't have any competition or rivalry feelings between our groups. Whenever we meet, we're always greeting each other out of fondness. We take care of each other, and always fool around together in the waiting rooms. We film a show in China with iKON. We've become closer as colleagues by spending such long periods of time together. We learned to care for each other. That's the type of relationship we share with the other groups.
Q. If MONSTA X, iKON and SEVENTEEN were the week's candidates for 1st place, who do you wish would win?
WonHo: It would be awesome if we can all place 1st together... but if we absolutely HAVE to pick, I would have to pick MONSTA X. Even becoming a 1st place candidate together would make me so happy. 
Q. How long will it take for the next part of the series?
WonHo: We can't really specify the amount of time it will take. After our current promotions are finished, we'll continually put out new albums and show our fans the different colors of MONSTA X. Within and through the future of our promotions, we'll show how much MONSTA X has grown.
Q. What kind of colors are MONSTA X portraying through the current promotions?
WonHo: We've tried dramatizing our comeback to show various sides of ourselves. For our new MV, we took on the challenge of acting. Through the characters, we portrayed a unique side to each individual member.
MinHyuk: If you look closely at our MV, each character has their own hurt and struggle from life. The MV tells a story of how these characters overcome their struggles.
Q. What's a keyword for the concept of your comeback?
KiHyun: The keyword for our mini album has to be Clan with the mean of working together.
Q. How was collaborating with MAMAMOO's WheeIn for "Ex Girl"?
KiHyun: We were so thankful for her quick agreement to work with us. We go to the same hair shop as our seniors, MAMAMOO. We always greet her every morning and continually express our gratitude.
Q. What are the group's plans as in terms of international promotions?
MinHyuk: We're currently filming a show in China. In terms of music releases and promotions in China, there are no set schedules or plans. But we've been active since last year when we filmed our first web drama, and now are continuing on with the large show. As long as we have the opportunity, we are always willing and wanting to prepare international promotions.
Q. The members took on challenges to act in the new MV. Don't you think you can venture out into acting?
KiHyun: We've always tended to focus on dancing for our past MVs. For the first time, we had decided to try dramatizing our video through acting. We had to act out crying scenes and scenes where we burn things. We also had to act out the individual struggles of our characters. The director actually complimented us on our acting, which gave us strength to finish strong.
Q. HyungWon got beat up a lot in the MV. Please tell us more about your role.
HyungWon: I played the character who gets beaten up and abused by his parents. Maybe it's because of my looks, but the director chose that character for me. I did my best to look weak and fail.
Q. How do you feel working with the veteran actress, Kim YoungOk, on the show "Nation of Hip Hop"?
JooHeon: When they told me that I was going to rap with grandmothers, I was wondering how it could happen. I was so intimidated and overwhelmed when I learned that I would be rapping with the very famous actress, Kim YoungOk senior. But, she treated me so nicely to the point that now she feels like my actual grandmother. I was able to get her number to keep in touch, but I haven't been able to contact her, because I don't have a cellphone. I'll probably visit her during the holidays.
Q. What is the meaning behind the album title, "Clan"?
WonHo: We use the word 'clan' in the sense of a group with a common purpose. Whether it be through fashion, performance, promotions and such, we've all worked together to show different sides. The members have actually participated a lot for the making of our album and the actual choreography. We want to show our teamwork as a group with a common purpose.
Q. The title track is called "All In". What would you put your all into?
JooHeon: Ever since the 1st album, we've always put all in into our albums. We've put our lives on the line for our comeback album.
Shownu: I would put everything in the line like the lyrics.
I.M: I want to make a call (a play on the Korean title) to my parents with good news.
KiHyun: I want to put all in in order to have our own solo concert. 
MinHyuk: I want to put all in in order to win a prestigious prize. Since we've passed through the Rookie Award, I want to win the Performance Award. If given the chance, I would also like to win the Best Album Award.
HyungWon: I've been losing a lot of weight, because I've been putting all in into our preparations for our comeback.
WonHo: I wish everyone will put all in into loving our new and future promotions.
Q. What are the goals for the promotions for this album?
MinHyuk: We've been talking among our members a lot about a 1st Place Promise (a promise to do something if they win 1st place). We decided that we want to portray the word of "All In". If we win 1st place, we promise to walk (a play in meaning on the Korean title) from the music show set all the way to our dorm, while filming a live video. We live in SeoRe Village, so it would take about 4 hours if we started walking from YeoUiDo.
WonHo: It would be my ultimate dream come true if we happen to continually place 1st on the shows. If that happens, then I want do the 1 Place Promise back and forth for each music broadcast day.
Q. Did any of the Starship family cheer you on during the preparation?
 JooHeon: All throughout the preparation process, our CEO and producer Brothersu helped us with our album. They always discussed various styles and lyrics with us. The Starship's artists like K.Will and the SISTAR noonas cheered us on by giving us tips and advice.
MinHyuk: I actually met the SISTAR noonas at the hair shop yesterday, and I asked them to hear our new album that will release tomorrow. Surprisingly, they already knew that the new album was coming out. Even amidst their hectic schedules, they remembered and assured us that they would listen to it. They take care of us and treat us like close siblings, so I'm always so thankful.
Q. What are the differences between a year ago during your debut to now?
WonHo: A year ago and since pre-debut, it felt as if debuting was the greatest achievement. That's why we practiced so hard and competed in the survival program to debut as a part of MONSTA X. But now, as the seniors have always told us, the road after debuting is even more challenging. There are so many other talented groups competing and working together. Even being able to stand on the same stage with the seniors that we've always admired is overwhelming. Even though it's only been a year since our debut, when I look back on my debuting self, I feel as if I was so young and naive. The one thing that didn't change since then is the fact that we do and will continually work hard to be the best group that we can be. I always want to remind our fans, who have helped us get here so far, just how thankful we are for their support.
Q. There are a lot of girl groups and boy groups that have recently debuted. Are there any specific groups or points that the group monitors?
WonHo: It would have to be the groups that we debuted together with. We monitor and give feedback for our friends like SEVENTEEN and iKON. The manager actually told us just recently that they've contacted us about how they are cheering for us and looking forward to our comeback.
Q. Why is Shownu the only person wearing a sleeveless shirt?
Shownu: It just happened that today was the day that I wear a sleeveless shirt. I won't be the only member to wear it, because the look is another part of our concept for the comeback.
KiHyun: There's actually a behind story that Shownu doesn't know about. When the stylist asked us what type of outfits we want to wear, I suggested to the stylist that Shownu should wear a sleeveless shirt. He has the most manliest arms out of all of us with the most muscles.
Q. Any last closing comments?
KiHyun: Thank you so much for coming out to meet us. We'd also like to give special thanks to our host, Park SeulGi, for MC'ing our showcase. We're still lacking much, but thank you for leading us on so well.
Make sure to check out MONSTA X's new mini album "The Clan Part.1 LOST" & the whole showcase video on Kpopmap's Facebook page!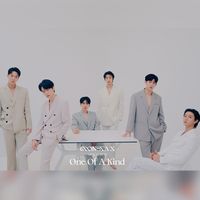 Became a fan of MONSTA X
You can now view more their stories